How to locate an access point
Today, we will learn how to automatically locate a WiFi access point. Sometimes it may be necessary to locate a Wi-Fi access point deployed at an office, a campus, or a client's facilities. Some of the reasons why it may be necessary to locate an access point include:
Validating a network's design and proper installation.
Discovering non-inventory access points.
Creating a corporate access point inventory.
Identifying unauthorized access points (rogue AP).
Finding an unsecured or interfering Wi-Fi network.
Finding a Wi-Fi enabled corporate printer.
Searching and tracking an access point from which illegal activities are performed.
Usually, locating an access point requires the use of a spectrum analyzer, such as HackRF, or a Wi-Fi analyzer for trying to determine the access point location by proximity according to signal strength.
Along many different Wi-Fi network analysis, we have found that suspicious or unknown network signal transmission sources could come from unusual locations such as a solar Wi-Fi card mounted on a building, a surveillance video camera, a Wi-Fi router at a maintenance room, or an automated robot at a factory. Locating these access points was necessary for evaluating their impact on the surveyed wireless network security and for keeping an AP inventory up-to-date.
Therefore, having an appropriate Wi-Fi tracking and device triangulation tool for access point location is often very useful, and our team has added these capabilities to Acrylic Wi-Fi Heatmaps, our Wi-Fi site survey software.
Locating an Access Point
In order to locate a wifi access point, we have to first create a site survey project on Acrylic Wi-Fi Heatmaps. Once the project has been created, site signal strength measurements must be performed using the three available methods:
GPS capture: If you have a GPS device, with coverage, simply move through the area to be analyzed with the GPS activated.
Manual capture over blueprint or satellite map: Select each location where network and signal strength measurements will be performed over a building blueprint or satellite map (Google Maps, Bing Maps, etc.).
Continuous capture: On Continuous mode, you will only have to click on any place in the blueprint or satellite map to start moving through the surveyed area, to then select the final position once you have finished.
After completing this process, which usually takes from 5 to 30 minutes, depending on the dimensions of the area to perform the Wi-Fi coverage or access point triangulation and location analysis, Acrylic Wi-Fi Heatmaps will automatically use several advanced triangulation algorithms to accurately locate all identified access points.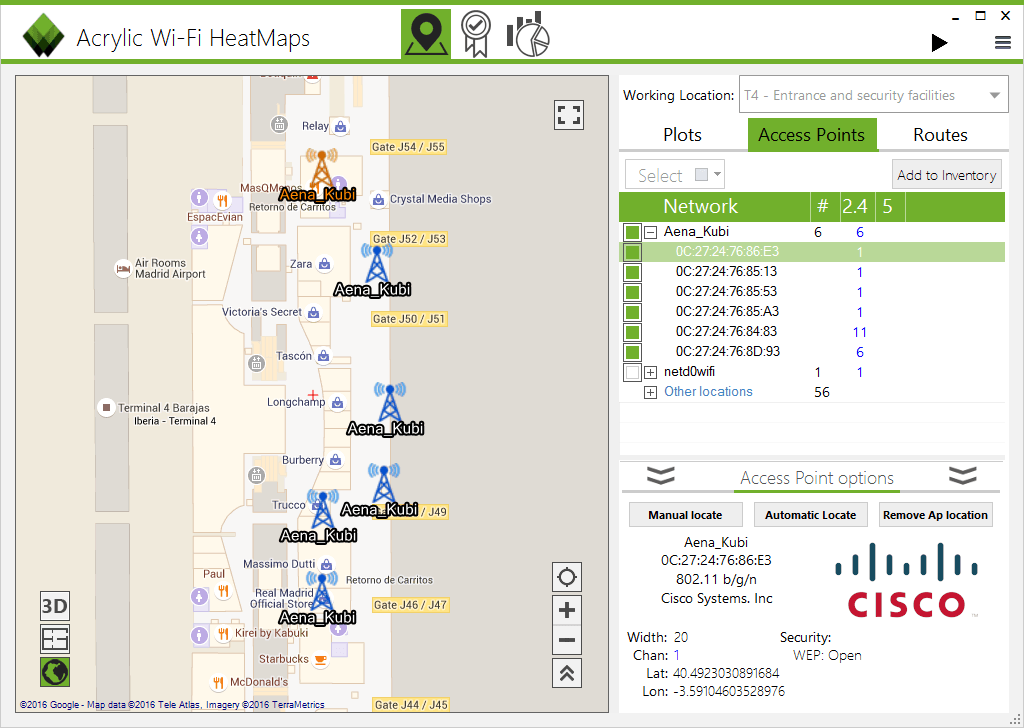 By default, only those access points detected to have a -70dbm or stronger signal are located. You can do this task manually or you can have the software re-calculate an access point location, and the results can be exported to a Word or Google Earth compatible file.
Access point triangulation visualization can also be enhanced by using a Wi-Fi heatmap and its level curves.
If, for any reason, you need to locate a WiFi access point, Acrylic Wi-Fi Heatmaps is the software that you are looking for. Download the fully-functional free 15-day trial version now!
So tell us, what was the strangest place where you have found an access point?