WiFi Analyzer
Forget about signal downtimes
Keep WiFi at its highest level and get recommendations to improve WiFi networks performance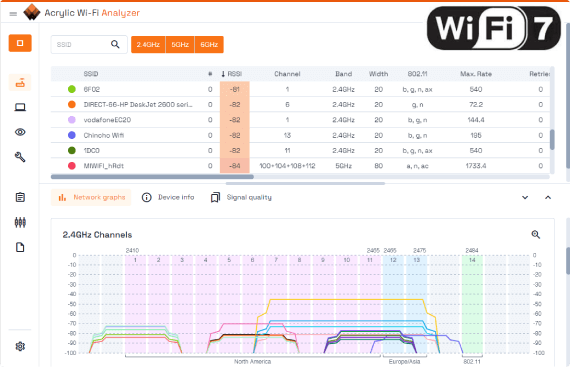 WiFi scanner & troubleshooting made easy
For all users, from beginners to professionals. The most advanced wifi analyzer for windows with tips and recommendations.
WiFi Scanner
Analyze 2.4, 5 and 6Ghz, with WIFI 6E. Get wireless information on signal strength, interference, download speed, roaming, and more.
Channel optimization
Identify which is the best WiFi channel and measure channel saturation and congestion.
Network quality
Check the network health through real-time metrics about quality,signal, channel, security, SNR, and more.
Troubleshooting
Detect and fix WiFi problems. Check connectivity, latency, packets loss, speed, WiFi roaming, data flow, and more.
Acrylic WiFi Analyzer features
Monitor mode
Detect WiFi clients, measure SNR, and identify packet losses.
Real time
Visualize what is happening, measure download and upload speed, and save packets to PCAP file.
Visual graphs
Advanced and easy-to-understand graphs to identify WiFi problems
Inventory
Keep your devices identifiable by associating them with a name.
GPS
Locate devices using GPS.
Advanced metrics
Signal distribution, radar device location, detailed information, and more.
Easy and intuitive
Nice, simple and modern interface, with light and dark theme.
Reports
Save network status results to HTML, CSV, or TXT files.
And much more...
Why Acrylic WiFi Analyzer
WiFi Analyzer
Detect, analyze, evaluate and monitor
Everything you expect from a wifi analyzer tool but with super powers
All wifi standards 802.11/a/b/g/n/ac/ax (WiFi 6).
2.4GHz, 5GHz and 6GHZ (WiFi 6E) support.
Multiple metrics (Bandwidth, Retries, Speed, and more).
Reveal who is connected to the WiFi network.
Detailed information about WiFi devices.
802.11 packet viewer and inspector.
Compatible with Acrylic WiFi Sniffer.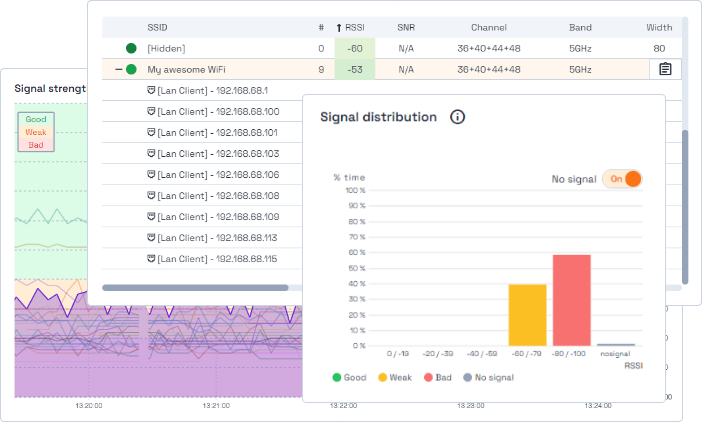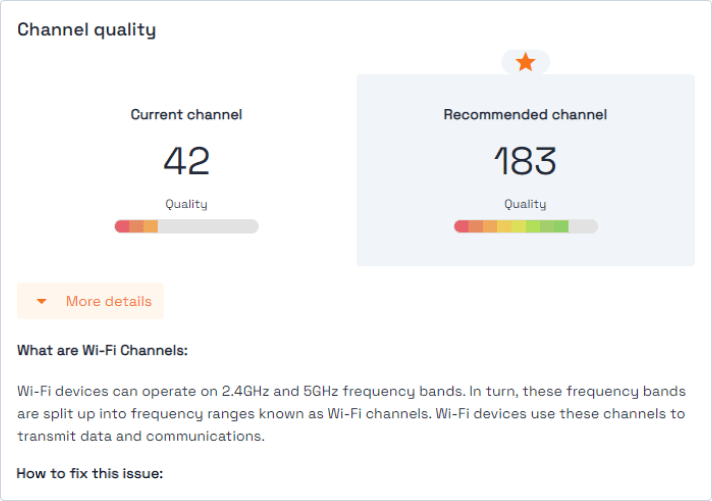 WiFi Network Quality
Seek and destroy weak points
Get tips and recommendations to boost your WiFi performance.
Channel quality.
Signal quality.
Network security.
Transmission Speed.
802.11 standards.
SNR and retry rates.
Troubleshooting
Take control of your WiFi
Monitor network performance and issues detection.
Connectivity status.
Data flow and bandwidth.
Connection latency and delay.
Packet loss.
WiFi connection roaming.
Iperf and Transmission Speed.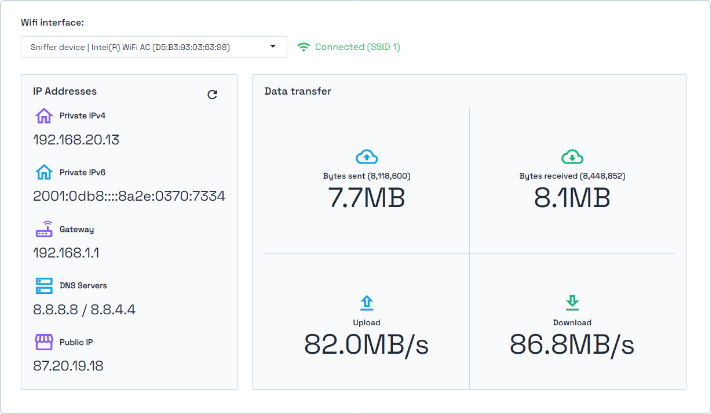 User-friendly design
Design focused on you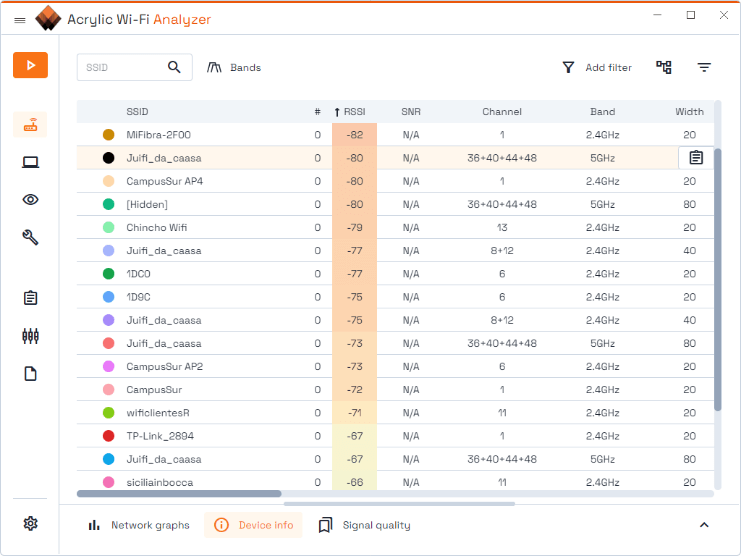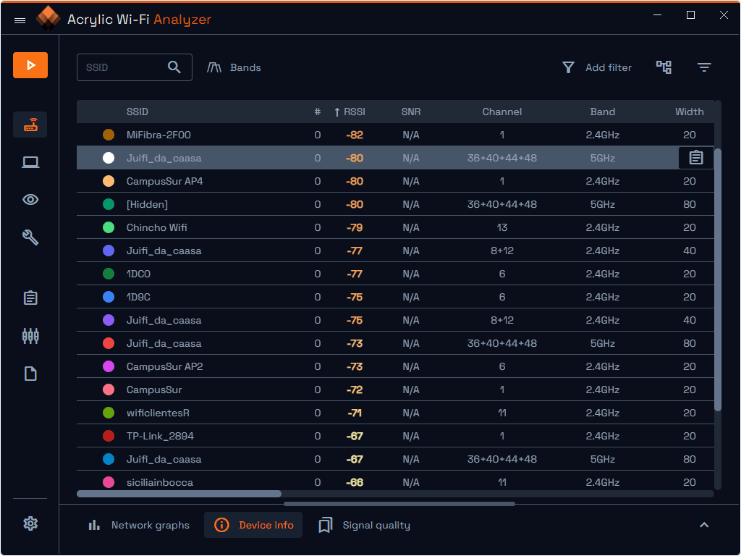 Version comparison
With this wifi analyzer for windows detect performance issues and signal noise to improve WiFi network performance & health.
Wifi Scanner
Get information from Access Points.
Signal and channel viewer
View signal strength and channels used in real time.
Data filtering
Advanced device filtering.
Inventory
Identify your devices by name.
Device clustering
Classify devices by type, SSID, manufacturer, name, and more.
Network quality
Real-time measurement of your network performance.
Troubleshooting
Advice on how to improve performance and efficiency.
Report generation
Export and save the wifi analizer results in HTML, CSV, or TXT.
Save captured data
Save and load the captures to PCAP files. These can be used by third party applications such as Wireshark.
Gps localized analysis
Perform Wardriving using GPS to identify where a device was detected and export that information to a KML file.
Detailed information
Obtain devices details from metadata to behavioral information.
Professional use
The software can be used within the context of a company for services provision.
Frequently asked questions about Acrylic Wi-Fi Analyzer
▶

What is Acrylic Wi-Fi Analyzer and how can it help me?

Acrylic Wi-Fi Analyzer is a tool used to analyze wireless networks and improve their quality and performance. It can help you identify weak points in your network, such as interference points and connectivity issues, so you can resolve them and improve the speed and stability of your wireless network.
▶

Why do I need a Wi-Fi scanner and how can I choose the best one for my business?

If you use a wireless network in your business, it is essential to have a Wi-Fi scanner to solve connectivity issues and optimize signal quality. To choose the best Wi-Fi scanner for your business, you should consider factors such as the type of analysis you need, compatibility with your devices, and ease of use. You should also consider the reputation and quality of the provider's technical support service.
▶

How does Acrylic's Wi-Fi scanner work and what are its key features?

Acrylic's Wi-Fi scanner uses an advanced algorithm to scan and analyze the frequency spectrum of nearby wireless networks. It provides detailed information about Wi-Fi networks, including signal strength, channel used, and data transmission speed. Its key features include interference detection, Wi-Fi signal optimization, and connectivity issue resolution.
▶

How can I use Acrylic Wi-Fi Analyzer to improve the quality of my wireless network?

You can use Acrylic Wi-Fi Analyzer to identify interference points and improve the signal quality of your wireless network. You can also optimize the speed and stability of your network by identifying connectivity issues and configuring channels and transmission frequency.
▶

How can I resolve network issues using Acrylic's Wi-Fi scanner?

Acrylic's Wi-Fi scanner can help you resolve network issues by identifying interference points, optimizing Wi-Fi signals, and resolving connectivity issues. You can also use its troubleshooting tool to identify and resolve connectivity issues.
▶

What are the main advantages of using Acrylic Wi-Fi Analyzer over other similar software?

Acrylic Wi-Fi Analyzer offers several advantages over other similar software:
It is a comprehensive and easy-to-use tool for analyzing and improving Wi-Fi network quality.
It offers an intuitive and attractive graphical interface that allows for easy data visualization.
It is compatible with most Wi-Fi devices.
It offers a wide range of advanced functions and tools for analyzing and troubleshooting Wi-Fi network issues, such as interference detection, weak point identification, and detailed reporting.
It is capable of analyzing multiple Wi-Fi networks simultaneously and provides detailed information about each one.
It has an integrated database with information about Wi-Fi devices, making it easier to identify devices connected to the network.
It offers periodic updates and technical support to ensure optimal performance.
▶

What is the cost of Acrylic Wi-Fi Analyzer and how can I acquire it?

The cost of Acrylic Wi-Fi Analyzer varies depending on the version and features. You can check current prices on the Acrylic WiFi Analyzer website. To acquire it, simply follow the steps indicated on the website.
▶

How can I get technical support and help if I have issues with Acrylic Wi-Fi Analyzer?

If you have any issues with Acrylic Wi-Fi Analyzer, you can access the technical support section. There you will find a section with frequently asked questions, user manuals, and video tutorials to help you solve problems. You can also contact the technical support service via email or through a contact form on the website.
Would you help us by sharing our product on social networks?