WiFi Heatmaps
Increase WiFi performance
Design, audit, visualize, diagnose, ... Perform all the processes of planning, site survey & improvement of a wifi infrastructure with Acrylic WiFi Heatmaps.
Study WiFi coverage
Acrylic WiFi Heatmaps is a wifi planning and wifi site survey tool.
It allows to design, analyze and detect wifi problems easily and generate reports.
It works by defining locations (buildings, floors, inner perimeter and outer perimeter) to which plans or a specific geographic area are associated.
By performing WiFi measurements, the system captures the WiFi traffic and stores details of the devices, its signal level and other relevant data to make maps with detailed coverage each access point and to generate editable reports automatically with a diagnosing of the network situation and advice on how to improve it.
It allows the use of indoors plans where there is no GPS coverage so that all the information is georeferenced.
And if what you need is perform outdoor site surveys, Acrylic WiFi Heatmaps is ready for performing WiFi measurements in big areas, such as smart cities.
Design and planning of wifi networks from scratch
Design and plan from scratch a wifi network, identifies the best location where to install the access points and orientation of the antennas to correctly cover the entire perimeter ensuring maximum performance and coverage of the wireless network.
Draw walls and building elements.
Multiple materials to adjust the blueprint to reality.
Select the access point in 2.4 or 5Ghz.
Configure antenna type and propagation wave.
Orients and positions access points in plane.
View the coverage heat maps of the simulation wifi.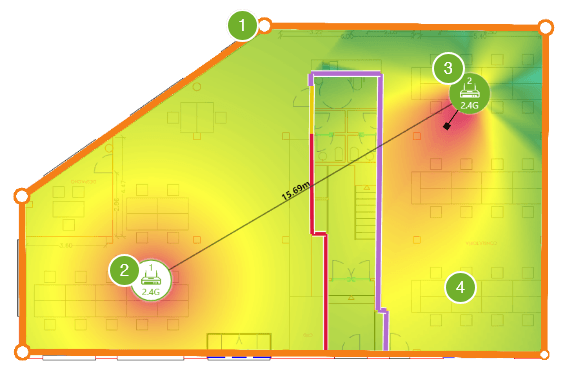 Add the walls to the plan
Add the APs to the map and position them
Configure APs (Frequency, antenna, channel, etc.)
View heat maps (Coverage, interference, etc.)
Start planning your installation
Design your Wi-Fi network for the best performance in just 4 steps
Site Survey software
Calibrate blueprints online. (Indoor and outdoor survey).
RF WiFi spectrum Analyzer support (2.4 and 5Ghz).
Displays coverage and heat maps in high resolution.
Create 14 different types of heat maps, also in 3D.
Analyzes WiFi signal and coverage quickly.
Active and passive WiFi site survey (iPerf support).
WiFi coverage analysis - site survey
Evaluates the correct deployment of any 802.11ax, 802.11ac and 802.11n wifi network.
Get visually all the information you need to represent: signal level (RSSI), SNR, AP and channel coverage, radio spectrum (RF), device density, signal overlap and many more. See how easy it is to carry out a Site Survey with Acrylic Wi-Fi Heatmaps in this article where we conducted a site survey on a 4-storey hotel.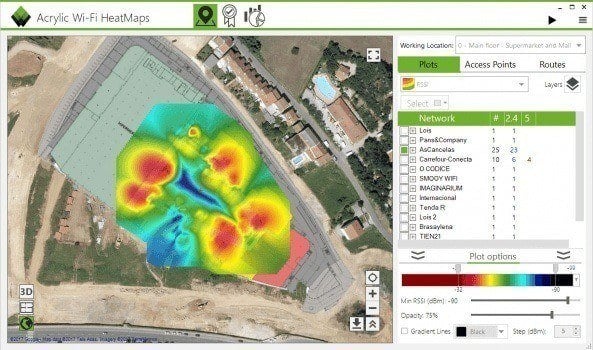 Conduct a study of your Wi-Fi network
Analyze the coverage and quality of your installation in the easiest way.
Wi-Fi Quality
Identify problems and deficiencies in your network and define the necessary changes to solve them through profiles oriented to your needs of use.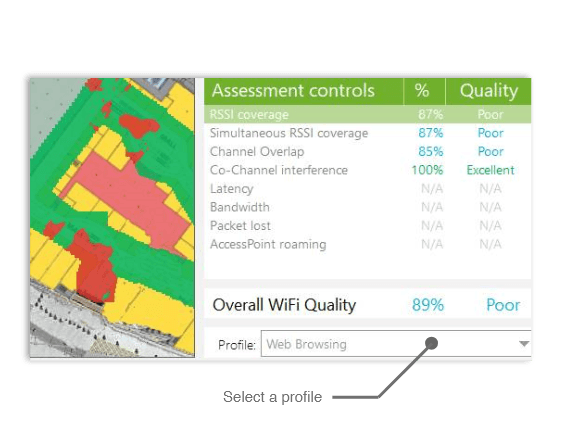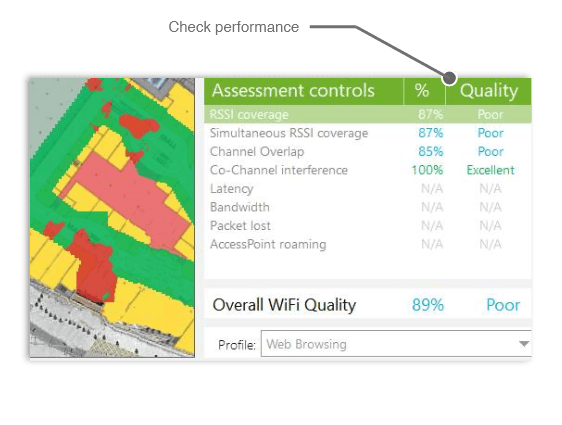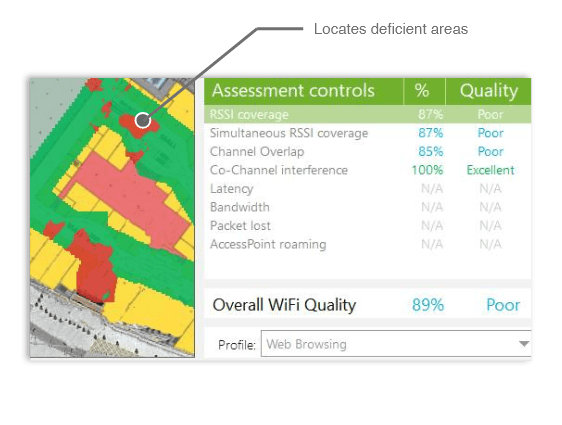 Select the right profile for your network.
Diagnose network performance automatically.
Get valuable information to improve it.
Wi-Fi Quality module includes two default profiles: Web browsing and VoIP, with parameters pre-configured by our Wireless optimization experts who analyze the suitability of the wireless network to support proper web browsing and Voice over Wi-Fi calls. You can also define additional quality controls to adjust to your standards.
In the visualization map, those zones in which the optimal levels are fulfilled to support a correct navigation and calls on Wi-Fi, are shown in green, the zones in which the levels are not reached are shown in red.
Troubleshoot problems in your deployment
Improve your network coverage with Acrylic Wi-Fi Heatmaps advices.
Report Generator
Obtain a complete inventory of analyzed devices and generate detailed editable reports with heat maps and coverage maps in Word and CSV format and export results to Google Earth.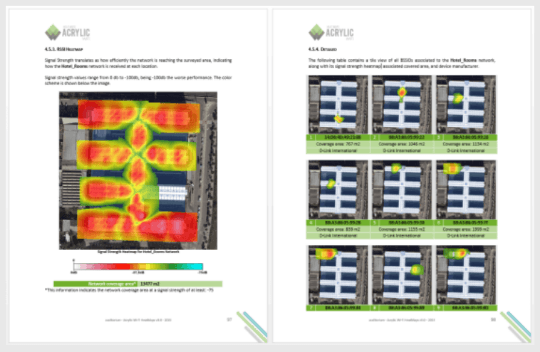 WiFi site survey report
Get the most comprehensive results automatically in various formats (Word, CSV, KMZ) to evaluate the correct deployment of WiFi infrastructure and edit them as needed.
Do you need to present a WiFi site survey report to a client or do you want to process the data collected during the coverage analysis in a clear and detailed way? Acrylic WiFi Heatmaps does it for you in one click. Reporting a WiFi site survey has never been easier.
Download sample reports in multiple formats!
Executive and detailed survey reports (in word .docx file).
Export results to RAW (csv) and KMZ (Google Earth).
One-Click WiFi Consulting Reports
Wireless network analysis reports are a great way to organize the data collected during a coverage analysis to provide the report to clients, as well as to save the data for a later review. However, creating these reports manually is both highly time and resource consuming. With Acrylic Wi-Fi Heatmaps, you will be able to use your valuable time on other important things while the software takes care of the most detailed and comprehensive reports on all of your site survey projects.
Just open the Report section on Acrylic Wi-Fi Heatmaps, choose the report type to create (Executive or Technical), customize the sections that you need, select report language and format, and download the document.
Coverage analysis reports can be created in .DOCX, .CSV, and .KMZ format, and they are available in Spanish, English, French and German.
Forget about non-editable PDF's. You will be able to , including data, graphics and maps, as well as customize your report sections, according to your needs.
Preguntas frecuentes sobre Acrylic WiFi Heatmaps
▶

What is a WiFi heatmap and what is it used for?

A WiFi heatmap is a visual representation of the WiFi signal strength in a particular area. It is used to visualize the coverage and quality of the WiFi signal in a specific location.
▶

How can a WiFi heatmap be created with Acrylic WiFi?

A WiFi heatmap can be created with Acrylic WiFi by using a compatible wireless network card that allows scanning of the WiFi signal spectrum in the desired location. Acrylic WiFi offers several options for heatmap visualization, including color selection, scale configuration, and defining the geographic location.
▶

What types of WiFi heatmaps can be generated with Acrylic WiFi?

Acrylic WiFi allows generating various types of heatmaps, such as coverage maps, connection speed maps, interference maps, noise maps, and signal quality maps.
▶

What information does a WiFi heatmap provide?

A WiFi heatmap provides information about the WiFi signal strength in different parts of a specific location. It can show areas with good coverage and connection speed, as well as areas where the signal is weaker or affected by interference.
▶

What are the main features of Acrylic WiFi Heatmap?

The main features of Acrylic WiFi include generating WiFi heatmaps, analyzing signal quality and connection speed, identifying interferences, and compatibility with a wide range of devices.
Would you help us by sharing our product on social networks?