WiFi Report. How to generate a report of wifi networks ?
Detailed wifi report of networks and clients
Let's see how to create a detailed wifi report of all the networks around you as well as the clients that are connected, both yours and others.
If you don't know the WiFi devices around you or you work in a company where WiFi networks are used, it is important to be able to generate reports of the WiFi networks periodically.

What information does a wifi report provide?
Generating periodic wifi reports, identified by date you can see the evolution of WiFi networks around and detect fraudulent WiFi networks that attempt to supplant our network and can incur a security breach.
With Acrylic Wi-Fi Analyzer it is possible to generate reports of the WiFi networks in a very simple way as with the site survey wifi reports.
These are high quality and detailed reports in HTML format with which you can generate quality documentation of nearby WiFi networks and complement your work with detailed reports.
In addition, data from WiFi networks and clients can be exported to RAW/CSV format.
Also can export access points to other tools as well as store in ASCII format the complete list of devices.
Also, all these reports are easily editable, so you can edit and adapt to your needs, formats or corporate templates with minimal effort.
How to generate a wifi report ?
To generate reports during an analysis you simply need to access the report generation options through the right mouse button menu.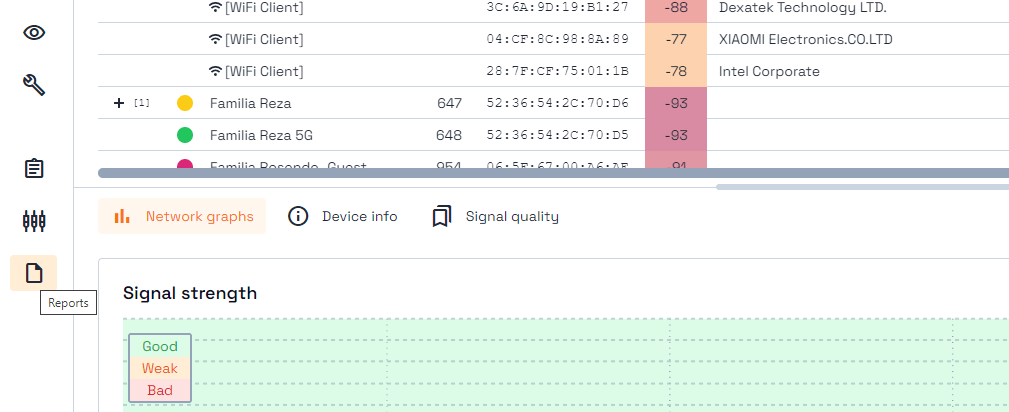 A window opens where we can select what type of information we want to export and in what format.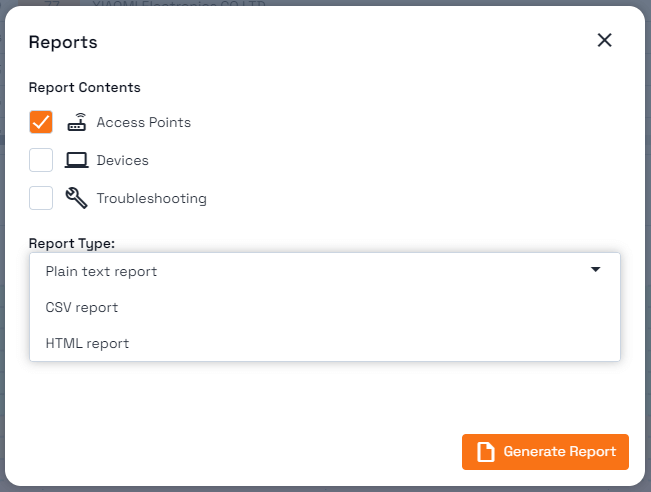 Complete wifi report of all access points in HTML
This list exports all detected access points as well as detected clients.
If you want to generate a report on the current status of WiFi networks available this is the best option.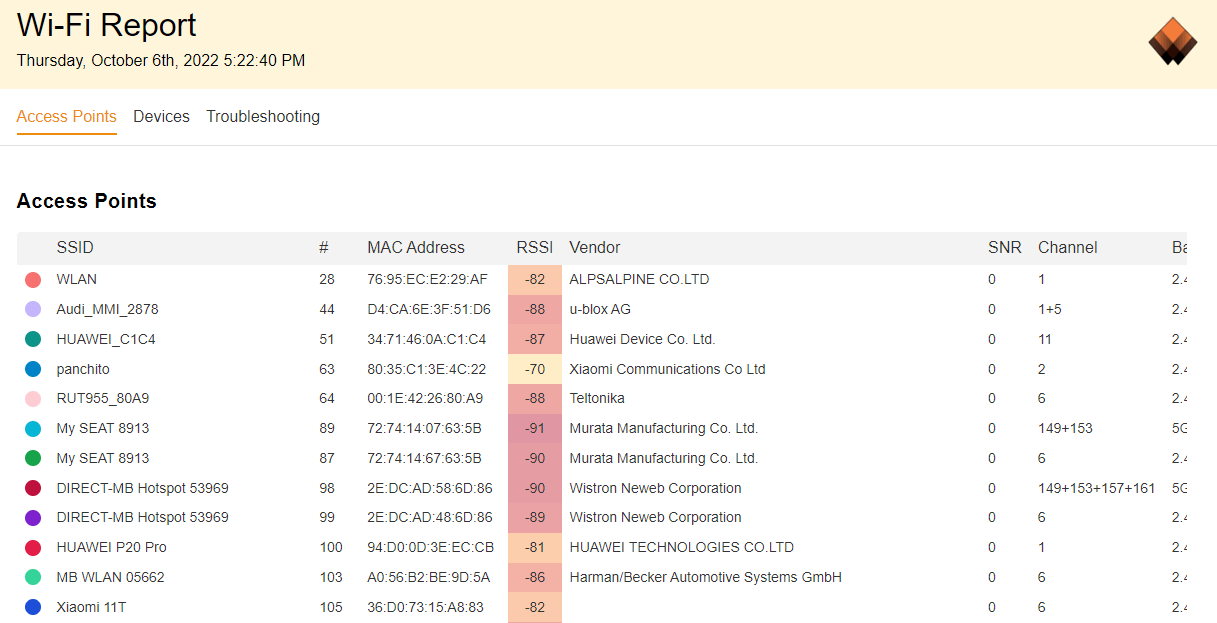 List of all wifi devices in HTML format
If you access the "Devices" view, you can export the complete list to an HTML file that allows you to edit it and include it in any deliverable.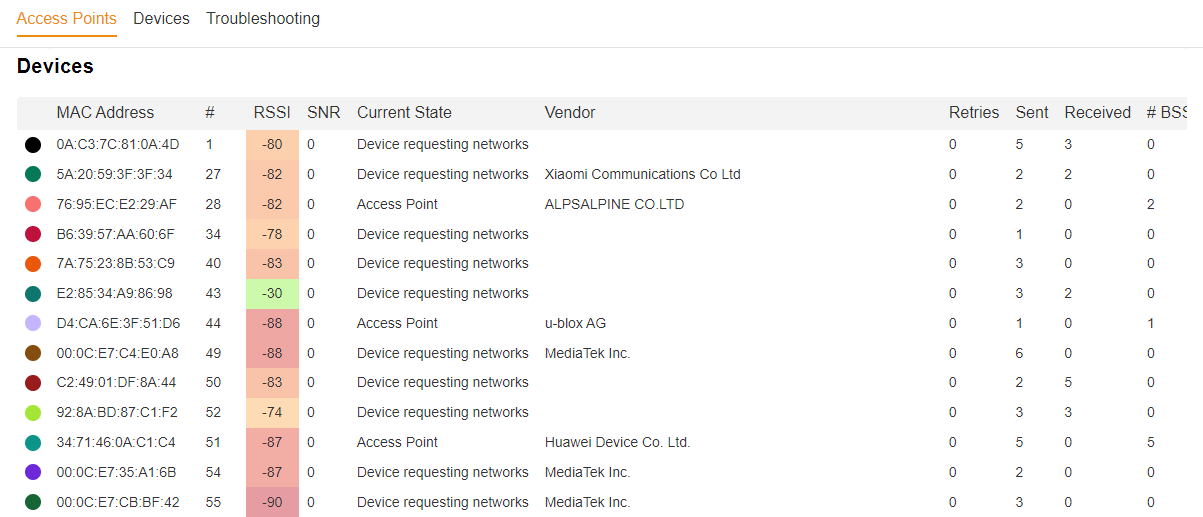 Export access points to CSV format
After exporting the results to CSV format, the results will be stored in a text file with CSV extension
The data of each row are separated by a ";" and is ready to be opened with EXCEL and that the data are organized in each cell.
This format is useful if you want to export the results of the WiFi analysis for use with other tools or to perform another type of analysis.

Save access points and clients in text format (ASCII)
The report generated in TXT format represents the view of access points and list of devices in the format of a table generated by ASCII characters.
It is an interesting option when you want to include the list with format in a document and you do not want to create tables to put each element.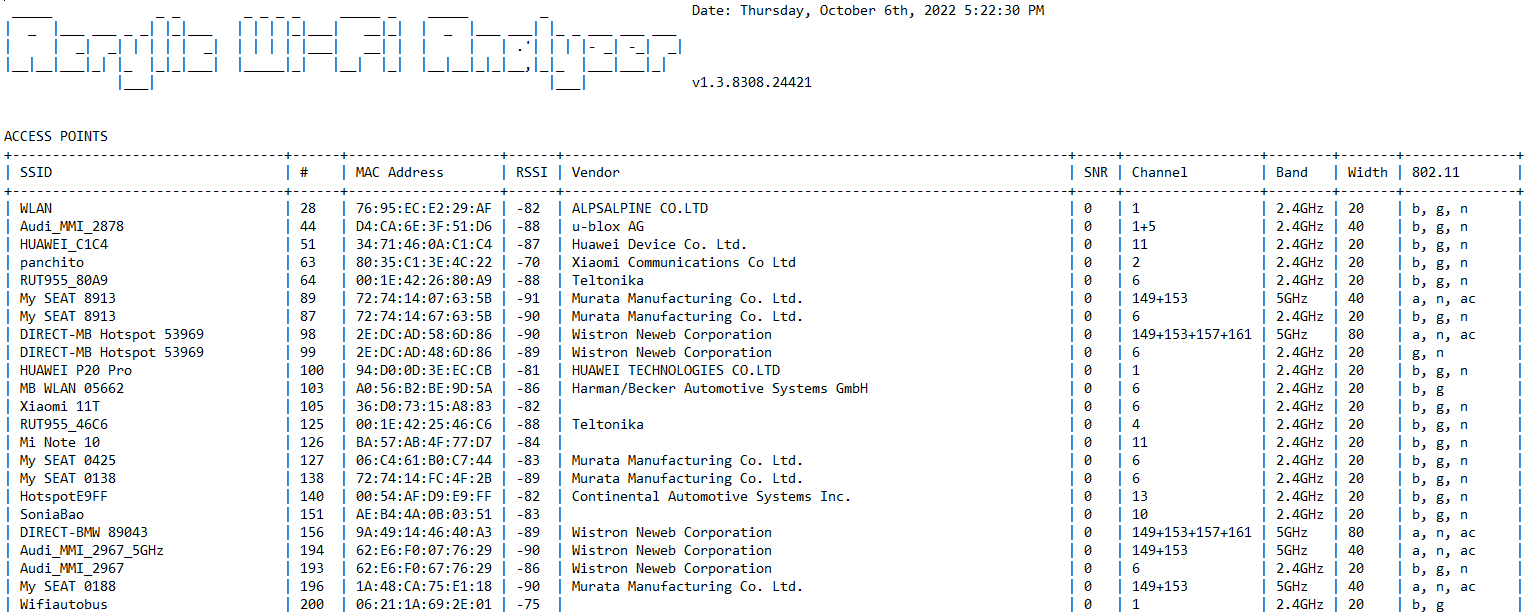 As we have seen, the information that can be obtained in a simple way helps to manage the assets and networks of our company or home.
As well as being able to verify that no one is supplanting our access points and routers with rogue aps and will have evidence at the time of the specific state of a network and be able to compare it over time.
Start creating your own wifi network reports with Acrylic Wi-Fi Analyzer
More articles in this series about Wifi troubleshooting and analysis
This article is part of a series of articles about Wifi troubleshooting and analysis
WiFi Report. How to generate a report of wifi networks ?