Become a Professional WiFi Analyzer
Date: (Last modified: 24 - Apr - 2020)
Acrylic Wi-Fi Professional has been developed for advanced users and WiFi network administrators that require comprehensive WiFi network information. Acrylic Wi-Fi Professional main features include:
802.11 Version: Detects WiFi access point and client 802.11 standard versions. You will be able to know if a device supports either 802.11ac, 802.11bg, or 802.11gn standard, and upgrade legacy devices affecting WiFi signal strength.
Supported Speeds: Information on maximum data transmission rate supported by access points and WiFi clients, and a complete list of supported data transmission rates through network packet analysis (Supported Rates, HTCapabilities, ExtendedRates, and VHTCapabilities) to ensure fast and efficient data transmission.
Retry Packet Rate: Statistics on packets retried by access points and WiFi devices to help identify data transmission and network coverage issues.
Device Information: Performance and behavior details on all WiFi devices in range (Station button).
Inventory: Assign WiFi device names by replacing the MAC field with a description for easier network analysis. Inventory is unlimited in the professional version.
Hardware: Works with any WiFi device thanks to its Windows API, and supports monitor mode to visualize all devices and packages with Airpcap cards and with compatible WiFi hardware.
Advanced View: Access device model and capability information, including manufacturer logo, on Device Advanced View
Data Export: Create HTML reports on WiFi networks in range. See this sample HTML Report.
Get Acrylic Wi-Fi Professional WiFi analyzer free trial for a complete list of WiFi devices on your wireless network and advanced WiFi analysis functionalities. Take advanced of our limited-time launching offer for a lifetime license.
Access point and WiFi client device detailed view.
Acrylic Wi-Fi Professional provides a more detailed access point information than the free version, listing device supported speeds and retry packets. A retry packet is a packet that is sent when the initial packet fails to reach the intended recipient device correctly. A large number of retry packets may indicate WiFi channel saturation, poor device location, or deficient coverage.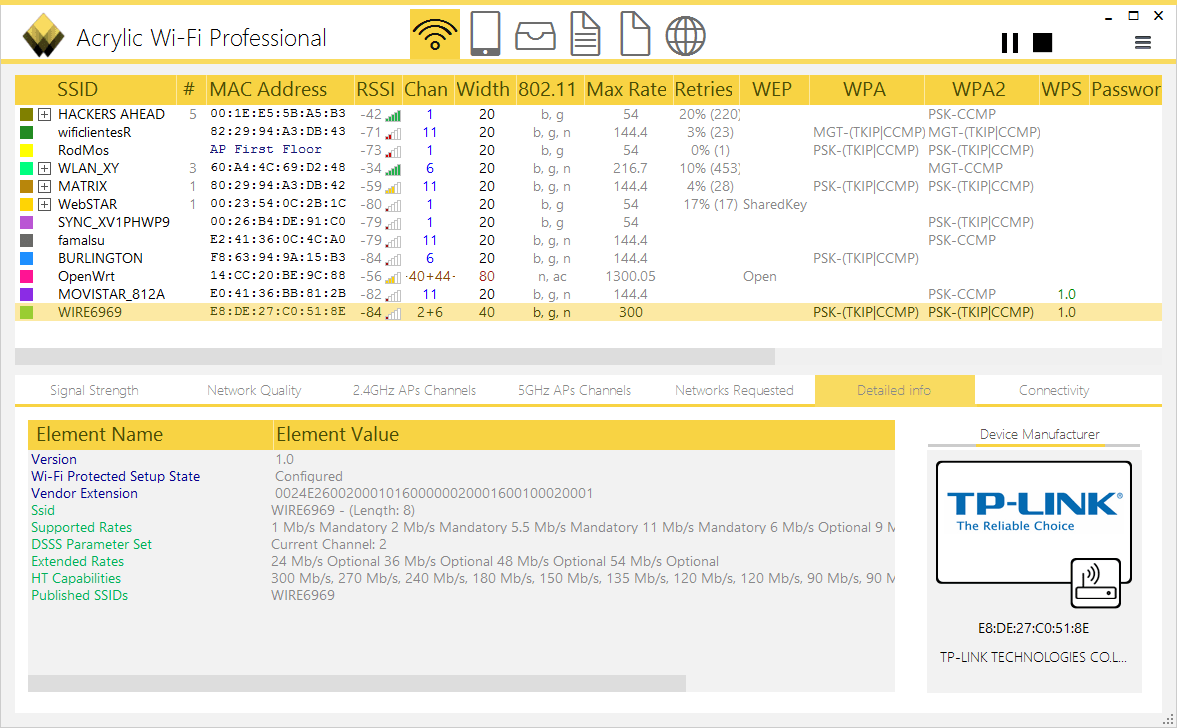 Complete list of all devices in range
By clicking on "Stations" button, you can visualize all WiFi accessible devices, such as access points (AP's) and transmitting devices (smartphones, smart TV's, laptops, etc.).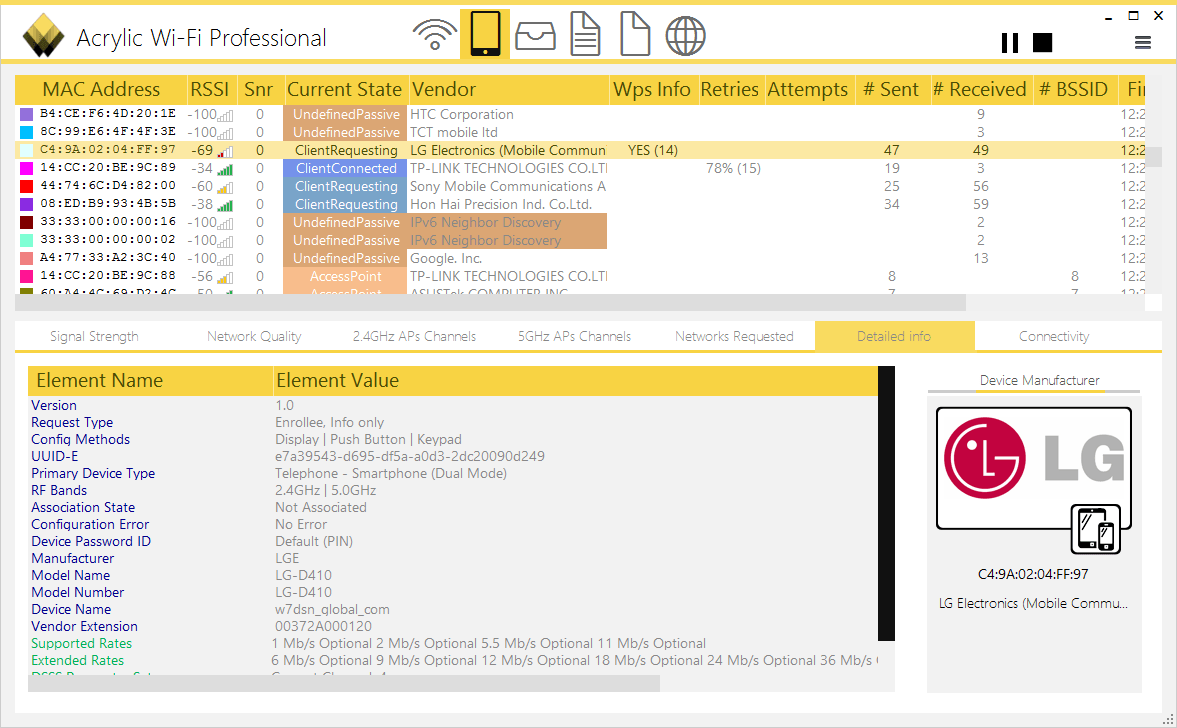 Download WiFi analysis and incidence resolution software
Download latest Acrylic Wi-Fi Professional version and become a professional WiFi network analyzer.
Have you already tried Acrylic Wi-Fi Professional? Leave us a comment!