Design and planning of wifi networks from scratch
Draw walls and building elements.
Multiple materials to adjust the blueprint to reality.
Select the access point in 2.4 or 5Ghz.
Configure antenna type and propagation wave.
Orients and positions access points in plane.
View the coverage heat maps of the simulation wifi.
Design and plan from scratch a wifi network, identifies the best location where to install the access points and orientation of the antennas to correctly cover the entire perimeter ensuring maximum performance and coverage of the wireless network.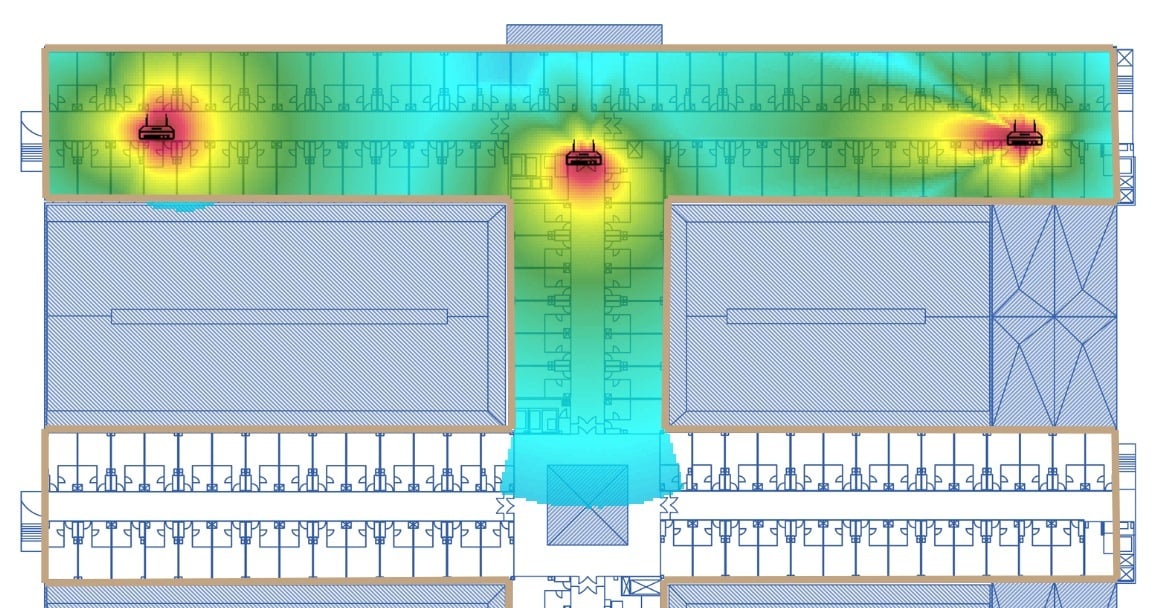 Site survey software
Fast WiFi signal survey and WiFi coverage analysis.
Calibrate blueprints online. (Indoor and outdoor survey).
RF WiFi spectrum Analyzer support (2.4 and 5Ghz).
Wi-Fi measurements and WiFi survey analysis.
High resolution WiFi heat map (Generate 10 different plots).
Render 3D WiFi coverage maps (Configurable render quality).
Active and passive WiFi survey (iPerf support).
Executive and detailed survey reports (in word .docx file).
Export results to RAW (csv) and KMZ (Google Earth).
WiFi site survey – WiFi heat map software
The most advanced WiFi site survey software. Enhance your wireless network deployment with Acrylic WiFi Heatmaps. Optimize your WiFi infrastructure, perform a RF spectrum analysis (2.4 and 5 GHz), do an automatic coverage and signal quality study of all existing access points and identify key points to improve the performance of your voice and data communications.
Assess the correct deployment of your 802.11n and 802.11ac network, obtain a complete inventory of analyzed devices and generate detailed editable reports with heat maps and coverage maps in Word and CSV format and export results to Google Earth.
Improve your Infrastructure with the best WiFi site survey software
Acrylic WiFi heatmaps allows to perform WiFi site survey easier and faster. Analyze the coverage and the correct propagation of your WiFi network signal to improve its performance.
It works by defining locations (buildings, floors, inner perimeter and outer perimeter) to which plans or a specific geographic area are associated.
By performing WiFi measurements, the system captures the WiFi traffic and stores details of the devices, its signal level and other relevant data to make maps with detailed coverage each access point and to generate editable reports automatically with a diagnosing of the network situation and advice on how to improve it.
It allows the use of planes indoors where there is no GPS coverage so that all the information is georeferenced. And if what you need is perform outdoor site surveys, Acrylic WiFi Heatmaps is ready for performing WiFi measurements in big areas, such as smart cities.
OTHER FEATURES:

Required hardware
No special hardware is needed. Acrylic WiFi works natively with all WiFi cards in the market.
Acrylic is also able to work with AirPcap Classic, Tx and Nx for an optimal measurement.
Required software
Acrylic WiFi requires Windows Vista, Windows 7, Windows 8, 8.1 or 10 with Microsoft.Net 4.5 installed.
GPS support
The georeferenced measurements with GPS are achieved by connecting any compatible GPS USB or Bluetooth compatible with NMEA. GPS is optional.
Measurements accuracy
The accuracy of the measurements can vary from a few cm when the location is referenced manually on a plan to 2-5m when GPS coverage is used.
High quality heatmaps
Create high quality WiFi coverage maps to view the site survey collected data. Select the information you want to show, choose between heat maps or 3D maps, select a colour scale and ready!
How often measurements should be made
Usually a grid of a 5-10m distance between each Measurement can be used. This value can be increased in open spaces or reduced to obtain a higher accuracy in close spaces.
Licenses type
Our unique time-based license policy allows you to reduce costs in your projects. Choose the license time that suits you best: 1 Month, 3 Months, 1 Year or Perpetual.

Intuitive Wi-Fi Network Coverage Analysis
Did you think that Wi-Fi network coverage analysis was complicated? ¡Think twice!
Acrylic Wi-Fi Heatmaps v3 is here! The professional site survey software that allows you to perform coverage analysis in an easy and straightforward way.
The Most Comprehensive Coverage Analysis
Featuring a simple and sleek interface, Acrylic Wi-Fi Heatmaps v3 is the preferred tool for all kinds of users, for experienced coverage analysis experts and beginners equally.Collect your wireless infrastructure data quickly and effortless, and Acrylic Wi-Fi will do the rest for you.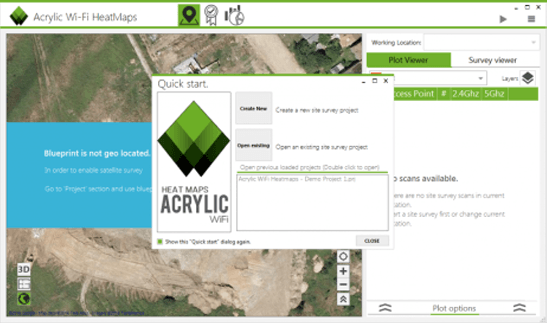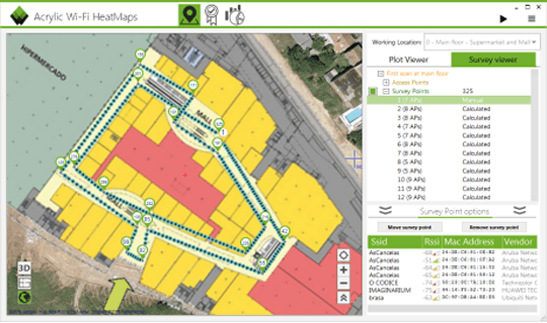 Coverage analysis for all types of users, including you
Manage all the coverage analysis steps using a simple main menu with three sections: Analysis, Maps and Reports.
Create a project, import a map of the location to be surveyed, or look for the site geographical coordinates on Google Earth.
To start capturing data, choose Normal or Continuous Mode. In Normal Mode, you are required to specify the points as you move along the coverage area. In Continuous Mode, you only have to specify the changing course points. You can also select the GPS Mode
Visualize the collected data on coverage maps: choose the information you want to visualize, select map type, customize your preferred color scheme, and compare different measurements.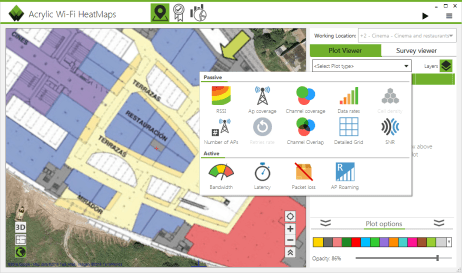 Create, customize, and edit detailed reports from the Reports section.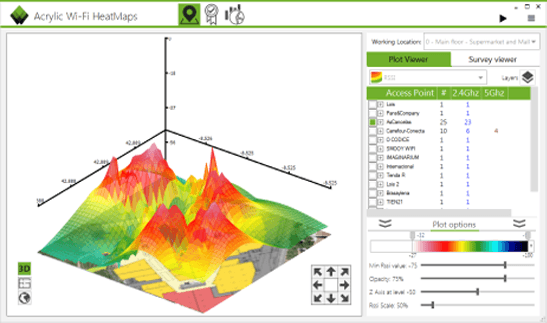 Optimize your Wi-Fi network by implementing all the improvements suggested by Acrylic Wi-Fi Heatmaps v3.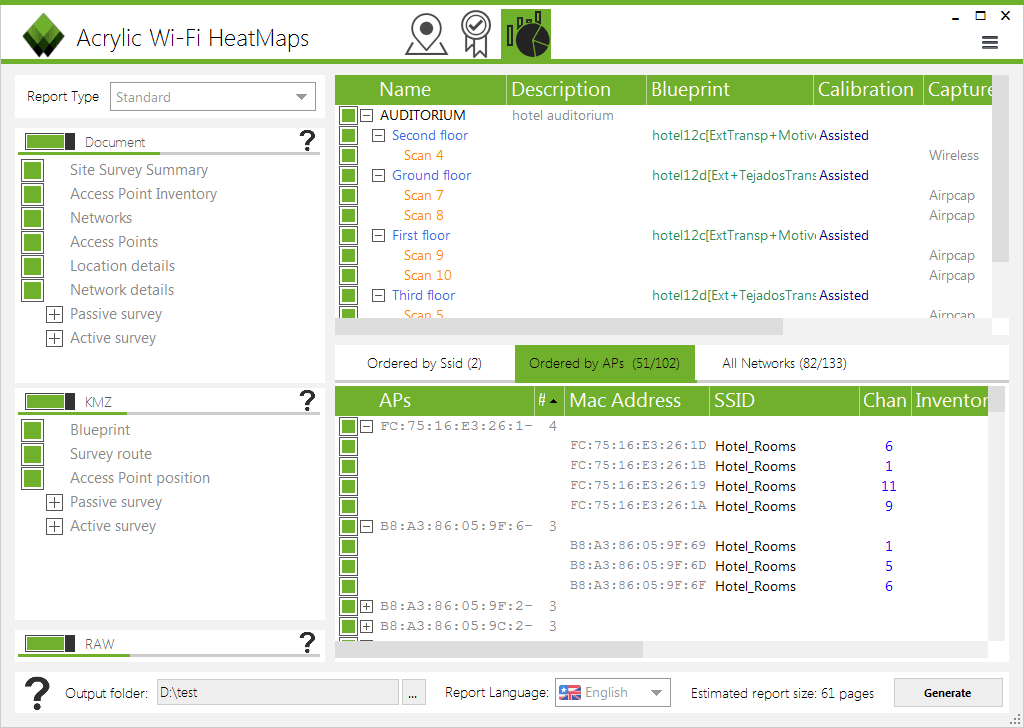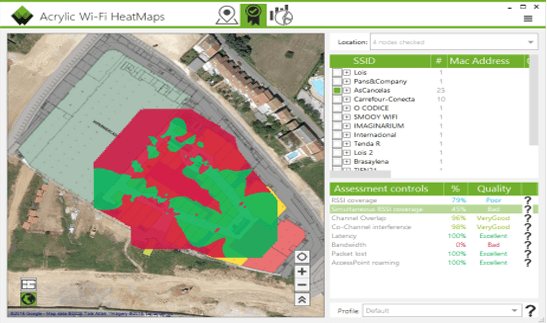 Wi-Fi Site Survey Report – One-click Wi-Fi Consulting Report
Do you need to provide a Wi-Fi site survey report to one of your clients? Do you want to process the data collected during a coverage analysis in a clear yet detailed way? Acrylic Wi-Fi Heatmaps v3 makes it possible in just one click. Providing a Wi-Fi site survey report has never been easier.
¿Necesitas presentar un informe de site survey WiFi a un cliente o quieres procesar los datos recogidos durante el análisis de cobertura de manera clara y detallada? Acrylic WiFi Heatmaps v3 lo hace por ti en un solo click. Presentar un informe de site survey WiFi nunca había sido tan sencillo.
Wi-Fi site survey report
Wireless network analysis reports are a great way to organize the data collected during a coverage analysis to provide the report to clients, as well as to save the data for a later review. However, creating these reports manually is both highly time and resource consuming. With Acrylic Wi-Fi Heatmaps, you will be able to use your valuable time on other important things while the software takes care of the most detailed and comprehensive reports on all of your site survey projects.
Just open the Report section on Acrylic Wi-Fi Heatmaps, choose the report type to create (Executive or Technical), customize the sections that you need, select report language and format, and download the document.
Coverage analysis reports can be created in .DOCX, .CSV, and .KMZ format, and they are available in Spanish, English, French and German.
Forget about non-editable PDF's. You will be able to edit your reports, including data, graphics and maps, as well as customize your report sections, according to your needs.
Download sample reports in multiple formats!



Wi-Fi Site Survey Report in Spanish



Wi-Fi Site Survey Report in English



Wi-Fi Site Survey Report in French

Wi-Fi Network Coverage Maps
They say that a picture is worth a thousand words, and this is even more true for Wi-Fi network data capture analysis. Acrylic Wi-Fi Heatmaps offers over 14 different types of wireless network coverage maps.
Get visual representation of signal strength, SNR, AP coverage range, device density, signal overlapping…
Additionally, you can quickly customize your maps, select your preferred color scheme, and create a highly accurate 3D or 2D Wi-Fi network coverage map.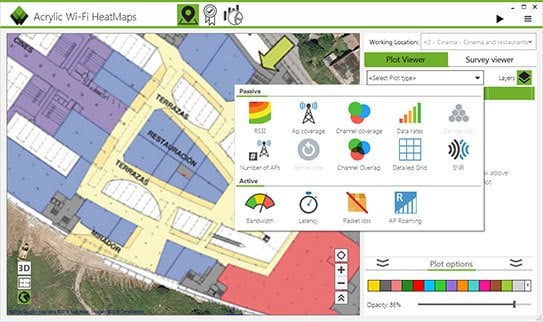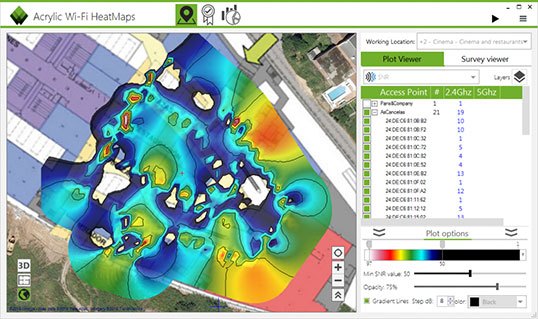 2D Wi-Fi Network Coverage Maps
Heatmaps are the easiest ways to clearly visualize all the data collected during a wireless network coverage analysis.
Acrylic Wi-Fi Heatmaps allows you to display locations for analysis on Google Earth, as well as to easily visualize each analyzed device location.
This helps you apply precise changes to optimize your Wi-Fi infrastructure performance and prevent potential blind spots with low or no coverage.
3D Wi-Fi Network Coverage Maps
Don't miss your chance to easily create your own Wi-Fi network coverage maps to detect blind spots within your Wi-Fi network coverage range at a glance.
3D Wi-Fi network coverage maps are really impressive and an ideal complement to your executive Wi-Fi reports.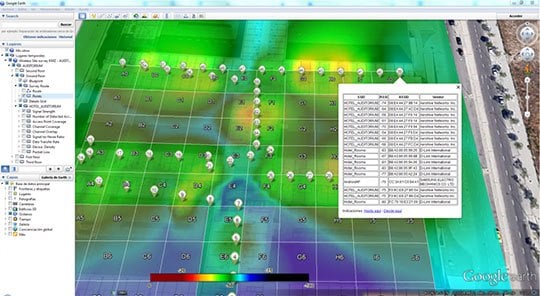 Wi-Fi Map on Google
Do you want to visualize your coverage maps on Google Earth?
Besides 3D & 2D Wi-Fi coverage maps, you can generate maps which are compatible with Google tools, in .KMZ format.
Use Google Earth as a complement to Acrylic Wi-Fi Heatmaps to visualize your Wi-Fi analysis projects' locations.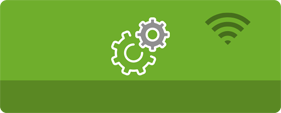 Find out how to improve your Wi-Fi network
You have already performed your site survey, created your coverage maps and detailed reports, and now, how can you improve your Wi-Fi network?
Acrylic Wi-Fi Heatmaps v3 comes with a built-in tool that suggests specific tips and recommendations to make the most of a wireless network.
Through the analysis of all data collected from the site survey, and following preconfigured parameters defined by our Wi-Fi optimization experts, Acrylic Wi-Fi Heatmaps v3 provides specific advice to strengthen weak points in your Wi-Fi network.
The recommendations to improve your Wi-Fi network are suggested by evaluating a large number of parameters that are automatically collected during the coverage analysis, allowing visual identification of Wi-Fi network design or performance errors.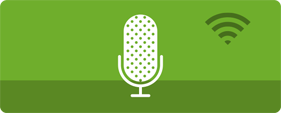 Wi-Fi network optimization for VoIP
One of the most requested corporate services today is VoIP capable networks.
However, many Wi-Fi networks do not have the necessary features to support reliable, uninterrupted Voice over IP services. Some aspects such as latency, transmission rate, or number of accessible AP's throughout the coverage area to guarantee proper roaming must be evaluated to ensure VoIP service over Wi-Fi.
Acrylic Wi-Fi Heatmaps v3 performs all the required measurements, compares actual and ideal parameters to support VoIP communications and, in case the Wi-Fi network infrastructure is not appropriate to support VoIP, suggests how to fix this issue.
Simple things such as moving an AP, or changing the default transmission channel can significantly improve Wi-Fi network performance. Trust Acrylic Wi-Fi Heatmaps for your wireless infrastructure optimization.

Acrylic WiFi Heatmaps documentation

Acrylic WiFi HeatMaps and site Survey video tutorials