Wi-Fi Recommendations: improve your Wi-Fi network in just one click
Find out how to improve your Wi-Fi network
You have already performed your site survey, created your coverage maps and detailed reports, and now, how can you improve your Wi-Fi network?
Acrylic Wi-Fi Heatmaps comes with a built-in tool that suggests specific tips and recommendations to make the most of a wireless network.
Through the analysis of all data collected from the site survey, and following preconfigured parameters defined by our Wi-Fi optimization experts, Acrylic Wi-Fi Heatmaps provides specific advice to strengthen weak points in your Wi-Fi network.
The recommendations to improve your Wi-Fi network are suggested by evaluating a large number of parameters that are automatically collected during the coverage analysis, allowing visual identification of Wi-Fi network design or performance errors.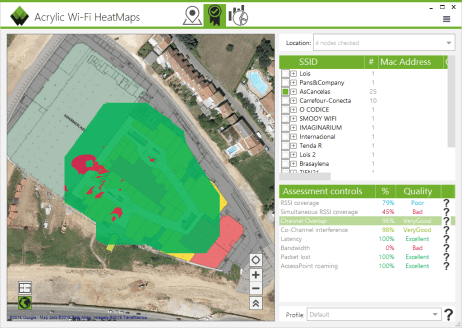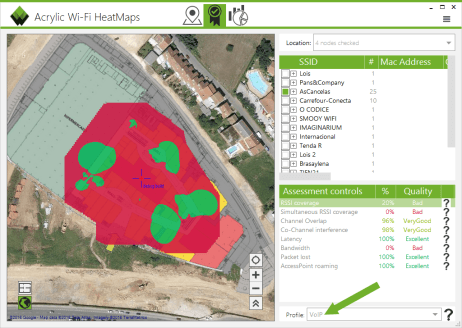 Wi-Fi network optimization for VoIP
One of the most requested corporate services today is VoIP capable networks.
However, many Wi-Fi networks do not have the necessary features to support reliable, uninterrupted Voice over IP services. Some aspects such as latency, transmission rate, or number of accessible AP's throughout the coverage area to guarantee proper roaming must be evaluated to ensure VoIP service over Wi-Fi.
Acrylic Wi-Fi Heatmaps performs all the required measurements, compares actual and ideal parameters to support VoIP communications and, in case the Wi-Fi network infrastructure is not appropriate to support VoIP, suggests how to fix this issue.
Simple things such as moving an AP, or changing the default transmission channel can significantly improve Wi-Fi network performance. Trust Acrylic Wi-Fi Heatmaps for your wireless infrastructure optimization.