2D & 3D Wi-Fi Network Coverage Maps with Acrylic Wi-Fi Heatmaps
Wi-Fi Network Coverage Maps
They say that a picture is worth a thousand words, and this is even more true for Wi-Fi network data capture analysis. Acrylic Wi-Fi Heatmaps offers over 14 different types of wireless network coverage maps.
Get visual representation of signal strength, SNR, AP coverage range, device density, signal overlapping…
Additionally, you can quickly customize your maps, select your preferred color scheme, and create a highly accurate 3D or 2D Wi-Fi network coverage map.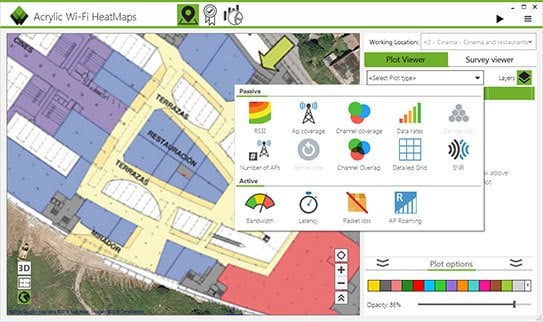 2D Wi-Fi Network Coverage Maps
Heatmaps are the easiest ways to clearly visualize all the data collected during a wireless network coverage analysis.
Acrylic Wi-Fi Heatmaps allows you to display locations for analysis on Google Earth, as well as to easily visualize each analyzed device location.
This helps you apply precise changes to optimize your Wi-Fi infrastructure performance and prevent potential blind spots with low or no coverage.
3D Wi-Fi Network Coverage Maps
Don't miss your chance to easily create your own Wi-Fi network coverage maps to detect blind spots within your Wi-Fi network coverage range at a glance.
3D Wi-Fi network coverage maps are really impressive and an ideal complement to your executive Wi-Fi reports.
Wi-Fi Map on Google
Do you want to visualize your coverage maps on Google Earth?
Besides 3D & 2D Wi-Fi coverage maps, you can generate maps which are compatible with Google tools, in .KMZ format.
Use Google Earth as a complement to Acrylic Wi-Fi Heatmaps to visualize your Wi-Fi analysis projects' locations.