Acrylic Wi-Fi Heatmaps
Assess and improve your WiFi network coverage.
Detailed WiFi heatmaps (signal, snr, speed, noise, channels, bandwidth,…)
Improve user experience, web browsing and VoIP with automatic quality metrics.
Planning WiFi networks

Active site survey (Iperf)

RF Spectrum site survey (Wi-Spy)

Passive site survey*

Editable reports (docx, csv, kmz)

License type (1month, 3 months, 1 year, perpetual and packs)

Operating system (Windows: Vista / 7 / 8 / 10)

Evaluation version (15 days)
*SNR through integration with Acrylic Wi-Fi Sniffer or AirPcap card. For more information see the list of compatible cards.
If you are a student you can get a license through this form.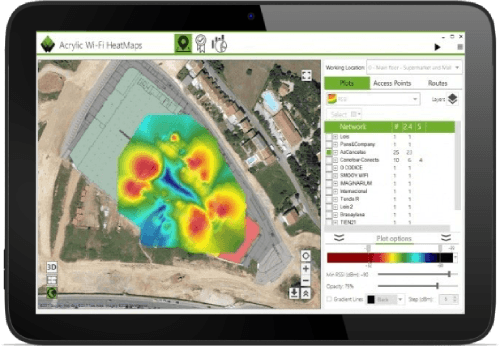 ¿Do you need a license?
Access our online store and get one.
Other Acrylic Wi-Fi Products
Discover all Acrylic Wi-Fi can do for you, go to our Products page , take a look at all our other versions and download Acrylic Wi-Fi Professional , our Wi-Fi analyzer tool.
How are Acrylic Wi-Fi tools used?
Become a Wi-Fi expert, learn with us
Go to training
Would you help us by sharing our product on social networks?