Wi-Fi network traffic sniffer for Windows 7 ,8, 8.1, and 10
Acrylic Wi-Fi Professional is a wifi sniffer for viewing Wi-Fi network information, channels, and packets on Microsoft Windows 10, 8.1, 8, 7 operating systems, and is also compatible with Windows 10. This wireless network sniffer has all the features of a Wi-Fi network scanner, displaying wireless network signal strength, channels, and behavior information, and it includes a Wi-Fi packet viewer to analyze network traffic.
Let's go over the steps on how to install and use the WiFi sniffer for Windows to monitor Wi-Fi network traffic:
Install Wi-Fi sniffer on Windows
The first step for using the Wi-Fi sniffer for Windows is to download it from the product page to begin with the installation process.
During the installation process, you will be prompted to install the monitor mode Wi-Fi packet capture driver. This functionality is necessary to view and capture all Wi-Fi network packets from nearby wireless networks.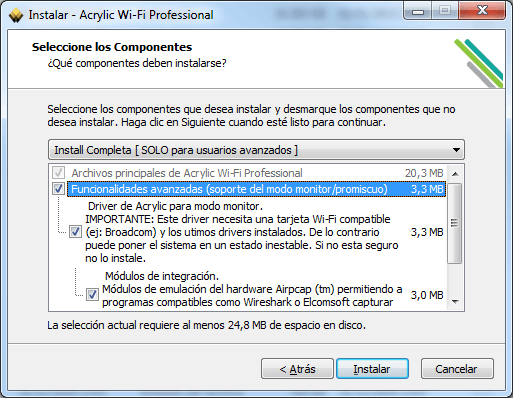 Bear in mind that this sniffer module requires a compatible wireless card, so make sure your wireless card is supported and you have the latest Wi-Fi drivers installed in order to avoid system errors and clogging. If you have any doubts, do not install the Wi-Fi sniffer.
Acrylic Wi-Fi is an Airpcap compatible software that allows you to use Airpcap cards to capture Wi-Fi traffic from devices within reach.
Wi-Fi network sniffer and Wi-Fi channel sniffer
After starting Acrylic Wi-Fi as System Administrator, the three options for monitoring Wi-Fi network traffic will be enabled. The first two options are ideal for Wi-Fi channel analysis.
Sniffer in normal mode: This mode uses Windows native Wi-Fi traffic capture mechanisms, so you will only be able to view Wi-Fi networks and channels. This mode does not require the installation of Acrylic's Wi-Fi traffic capture drivers.

Sniffer in Wi-Fi monitor mode: This mode allows you to view all the clients connected to nearby Wi-Fi networks and devices. This mode does not allow you to be connected to a Wi-Fi network while the sniffer is capturing Wi-Fi network traffic and network and channel information, since your connection will be interrupted when changing between Wi-Fi channels and frequencies (2.4Ghz and 5Ghz). This mode is ideal for viewing 802.11 standard Wi-Fi threads within reach.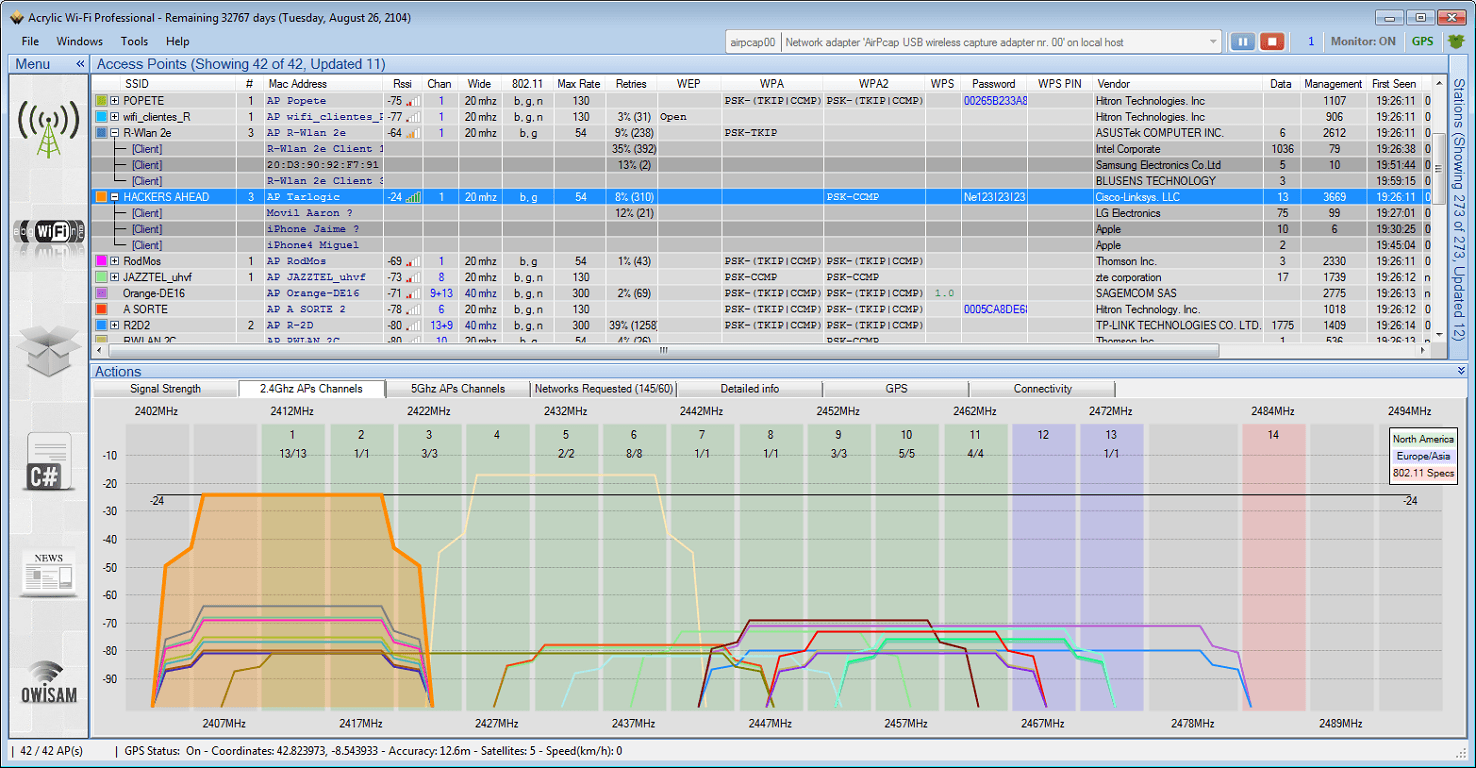 Wi-Fi packet sniffer and Wi-Fi traffic sniffer
The Wi-Fi packet sniffer functionality allows you to view the traffic of nearby Wi-Fi networks thanks to its integrated 802.11 standard traffic dissector. This module allows you to apply visualization filters on wireless network traffic, view received Wi-Fi packet signal strength levels, and analyze network packet content. You can activate this mode while the sniffer is enabled by clicking on the Wi-Fi Packet button located at upper right area of the software interface, and it is used to view Wi-Fi network packets in real time or the packets saved to your local drive as pcap files.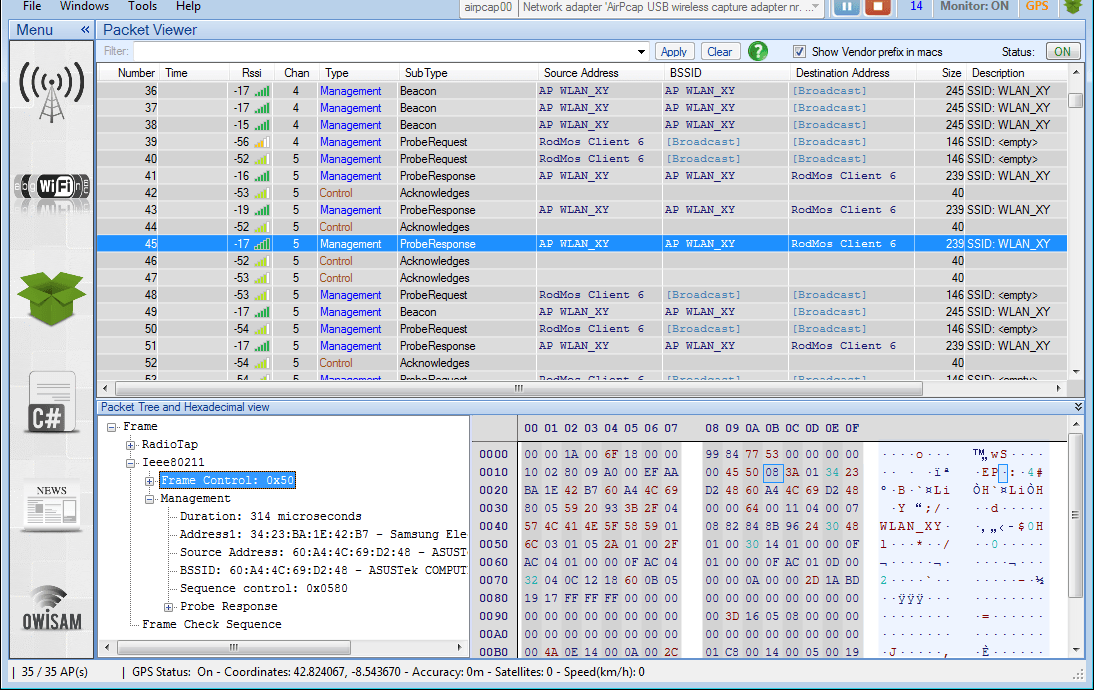 The Wi-Fi network packet sniffer module can be used on both normal and monitor modes, but it also supports a third option, the extended mode, for capturing the Wi-Fi network traffic generated by your equipment.
The extended mode allows you to use the Wi-Fi network traffic sniffer while your wireless card is connected to a Wi-Fi network. Apart from viewing signaling packets (beacons, probe requests, probe responses, data packets, etc.), you will be able to view all the TCP, UDP, or Wi-Fi broadcast traffic generated by your system while connected. This way, you will be able to view and analyze all the web browsing (HTTP) traffic, or any other network connection sent by the Wi-Fi network you are connected to.
This capture mode does not allow you to view Wi-Fi traffic from other channels, since your wireless card is working at a fixed frequency.
The Wi-Fi network sniffer on extended mode and the network packet capture mode sectors are long-awaited new features on Acrylic Wi-Fi Professional v2.3, which is expected to be launched within the next few days.
Download Wireless Network Sniffer for Windows 7/8/8.1/10
If you do not need to view Wi-Fi network packets or use a Wi-Fi network traffic sniffer, download Acrylic Wi-Fi Free, a free Wi-Fi network and channel sniffer for Windows that allows you to view all the wireless networks within reach. This version supports normal capture and monitor modes.
If you need complete wireless network behavior information, Acrylic Wi-Fi Professional Wi-Fi network sniffer is the right solution for you, since it supports all three Wi-Fi network capture modes, providing Wi-Fi network packet information in real time. A very useful tool for improving wireless network performance, detecting incidents, and learning more about Wi-Fi networking. Try it for free!
And for advanced users, the Acrylic Wi-Fi driver allows you to capture Wi-Fi network packets from Wireshark.