Monitor Wi-Fi networks using Acrylic Wi-Fi v2.2
The content of this article is outdated. Access to the article 10 tips and tricks to improve your wifi using WLAN software for updated information.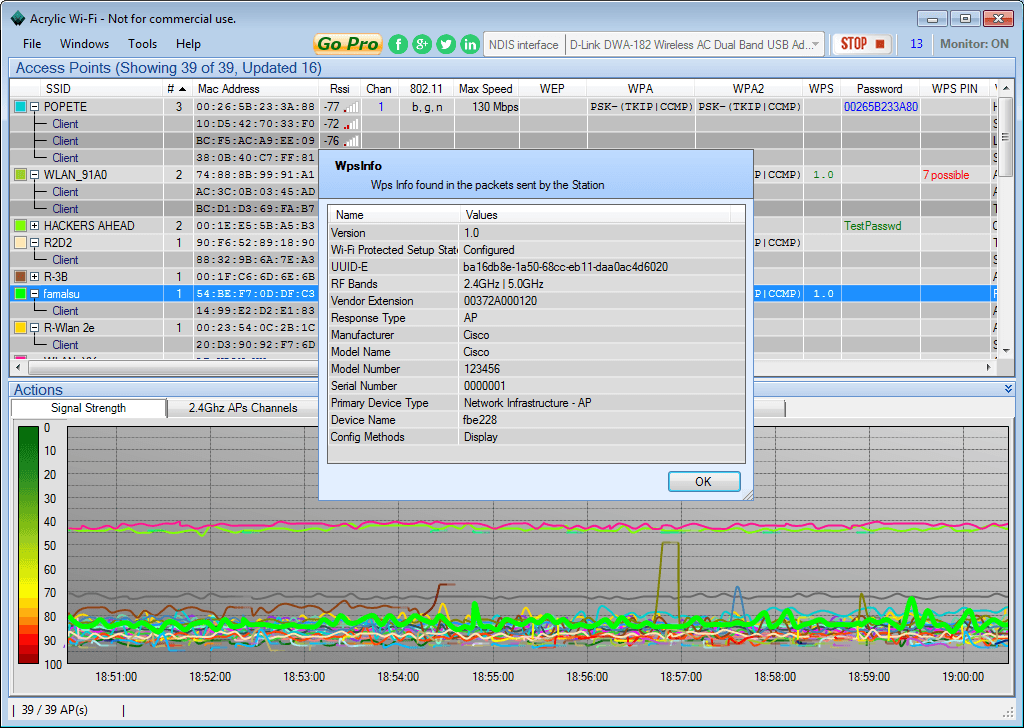 View Wi-Fi networks quickly with Acrylic Wi-Fi Free
The free version of Acrylic Wi-Fi has been re-designed to let the user view Wi-Fi network much faster than before. What have we changed? Here are some of the improvements:
Software menus have been removed, leaving a much easier-to-use interface.
Usability of many software components have been revised, and many contextual help dialogs have been added.
Some non intuitive options that were not used in this version have been removed, such as the packet viewer and the pcap file manipulation option.
The software loads 5 times faster than before, allowing you to view nearby Wi-Fi networks at range in seconds.
Analyze Wi-Fi networks using Acrylic Wi-Fi Professional
Re-designed device inventory.
Automatic start bug in monitor mode has been fixed.
Memory use and window browsing times have been reduced.
Improved Wi-Fi network signal/device charts.
Save to pcap option only shows when closing the software, not when launching a new monitoring session.
What Acrylic Wi-Fi version should I use?
Compare Acrylic Wi-Fi functionalities in the following table. The free version of the Wi-Fi network scanner is indicated for daily use and to collect nearby Wi-Fi network information.
If you are an advanced user and would like to get network and device detailed information, or if you are a Wi-Fi network administrator, then the professional version is for you.
| | | |
| --- | --- | --- |
| | | |
| Wi-Fi network scanner | | |
| View Wi-Fi channel information | | |
| Capture in monitor mode and normal mode | | |
| Connected Wi-Fi network clients information | | |
| Pcap file and airpcap card support | | |
| Unlimited device inventory | | |
| Disconnected device information | | |
| Integrated packet viewer | | |
| Password generation scripts | | |
| Export data, images, and reports | | |
| Network and client detailed information | | |
| Export measurements to Google Maps using a GPS device | | |
| Technical support | | |
| | | |
We will be back soon with more improvements, and with the launching of Acrylic Wi-Fi Heatmaps, the Wi-Fi network coverage surveying software.