10 tips to improve WiFi performance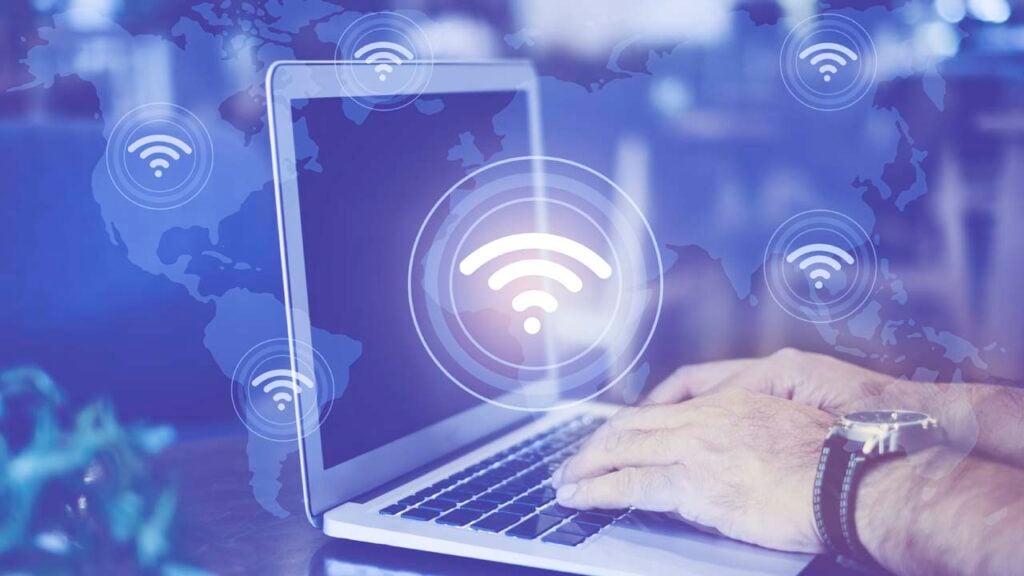 Network failures are a widespread problem. This guide of tips to improve WiFi performance arms users with the wisdom to deal with them
Not even fifty years old, and it has already managed to sneak into most homes in record time. Indeed, it is the router. This small device has become indispensable in all areas of everyday life: business, education, social, information, entertainment… It is responsible for keeping people and companies connected, a crucial task. But it sometimes suffers from failures that make it necessary to resort to tips to improve WiFi performance.
The INE estimates that 95.9% of Spanish homes have a broadband connection. With the boost of IoT, the number of devices and appliances that require internet connection has increased exponentially. Televisions, blinds, lights, vacuum cleaners, and refrigerators have joined cell phones and computers. Even locks offer the possibility of connecting to the Internet to open the door automatically.
This constant succession of innovations has wholly transformed society's habits. New products with updated functions or more advanced specifications appear regularly. Products that require a reliable WiFi connection to meet their demands.
WiFi, a necessity?
For these reasons, the router has become an indispensable tool. Not only do most homes have one, but they are also increasingly present in stores and public spaces. Today, the Internet is an indispensable tool in almost every company. If it were to malfunction, many of them would cease to be productive. And if you were to lose your WiFi connection completely, the losses would be disastrous even for just one day.
Enjoying a good signal is not a whim. For a large number of people and companies, it is a necessity.
If the network is not powerful, its loading times are slow, or it suffers from regular errors, it will hardly satisfy Internet users' requests. Is there, therefore, any way to improve the connection? This is undoubtedly one of the most frequently asked questions. While there are no magic formulas that ensure absolute efficiency, there are several tips to improve WiFi performance. And putting them into practice makes a big difference.
Following these recommendations is a great help to avoid signing up for higher WiFi services. In many cases, the contracted tariff may be sufficient. However, if it is not used correctly, some of it could be lost along the way.
Getting the most out of the network is not a complex task. But, with these ten tips to improve WiFi performance, squeezing the Internet's full potential will be within everyone's reach.
Choosing a good location for the router
Although it may seem like one of the most basic aspects at first glance, the router's location plays a significant role. And this is precisely the first of the tips to improve WiFi performance. The WiFi signal travels via radio waves. Therefore, if they encounter obstacles in their path, they will reach the receiving devices with much less intensity.
To ensure that the path is as clear as possible, all obstacles should be removed as far as possible. For example, if the wave has to pass through walls, ceilings, pipes or large furniture, it will lose some of its strength. It is also necessary to be careful with those apparatuses that emit in frequencies that can interfere, as is the case of microwaves.
It is recommended to place the router in an elevated place, out of reach of children or pets that can access it. On the other hand, it is necessary to avoid corners and hidden areas. It is crucial to consider where connections are usually made and through which devices. It is easier to find the ideal location with this information in mind. The equation is very simple: the closer the devices are to each other, the better connection they will receive.
It is also not unusual to point the router's antennas at the devices that are using the WiFi. However, at least one of them should be positioned vertically, as the receiving devices usually share this orientation and will receive the signal with greater intensity.
Check that there are no intruders on the network
The Internet has stopped working as it used to, and the connection is getting slower and slower. This is a universal experience that, sooner or later, everyone experiences. And in many cases, suspicions are directed next door. Unfortunately, it is not unlikely that a neighbor is stealing the WiFi around you.
To find out if this is the case, many programs and applications analyze the local network to identify all the devices using it. In this way, their name, IP and MAC address can be displayed. After having discarded your equipment, if some unknown devices are still displayed, there is probably an intruder taking advantage of the network.
Preventing this situation is not a laborious task. The best thing to do is change the WiFi name and password, especially after installing the router. Investing a few minutes in discarding the default password generated by the operator and replacing it with a personalized one will help to avoid future mishaps. In addition, updating it regularly helps to optimize performance and strengthen the network's firewalls.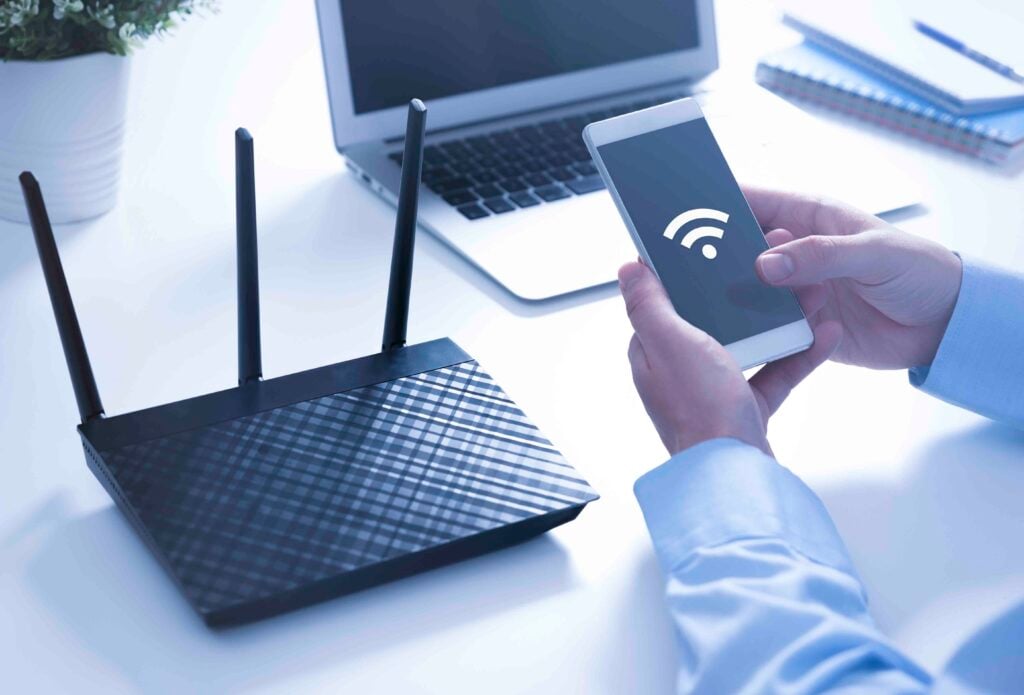 Updating the router
Precisely for security purposes, it is advisable to update the router's firmware every time an update is available: another one of the tips to improve WiFi performance. What does this achieve? Not only does it correct certain errors that may occur during operation. In addition, keeping the router up to date allows you to incorporate new features developed by the manufacturer as soon as possible.
The update process can be complex for individuals unfamiliar with computers. First, the router must be logged into the router through the computer to do it manually from this device. Then, navigating the options menu should bring up a button that allows the option to upgrade. After clicking on it, wait for the operation to complete. However, every day more and more routers offer the possibility to update automatically, relieving the user of this task.
Installing a WiFi signal repeater or booster
For purely size reasons, it is very likely that the WiFi signal does not reach all rooms easily in large homes. Or that it does not reach some corners, where there would be no possibility to connect to the Internet. The same applies to stores and public spaces. But, again, this is because the router covers a limited area and cannot send the radio waves any further on its own.
Two tools stand as the solution to this problem: repeaters and WiFi signal boosters.
A repeater is a device that receives the existing signal and proceeds to retransmit it. Its purpose is to create a second network, dependent on the first. On the other hand, an amplifier manages to increase and boost the coverage of a weak signal. It does not establish a new network but strengthens the original one.
The differences between the two are minimal and are limited to technical aspects. If put to the test, an ordinary user would hardly be able to see any variation between the results they deliver. Both effectively fulfill their purpose: to enable WiFi to travel to the most remote areas of any property.
Resort to the latest technologies
Like all technologies, WiFi is advancing and evolving. Experts worldwide work daily to optimize their processes and offer a faster service with greater data management capacity. As a result, a new version of WiFi is introduced every few years that includes different improvements over its predecessor.
Recently, WiFi 6E has landed, which is already starting to be available to some users. WiFi 6 has already improved speed and energy efficiency compared to WiFi 5. In addition, it ensures better performance when a large number of different devices are connected. However, it only supported the 2.4 GHz and 5 GHz bands. Now, this new version has managed to add the 6 GHz band.
Each new standard generally offers performance improvements that represent a leap forward. The WiFi 6 version, for example, is 40% faster than WiFi 5 and managed to reduce its latency by 75%.
Wifi 7, which is still under development, will arrive soon. Work is underway to make this new version capable of detecting movement. This is an essential functionality for the growing number of smart homes opting for home automation.
New developments are constantly coming onto the market. Although it is not essential to have these updates the day after they are released, if companies want to put into practice the tips to improve WiFi performance, they must make an effort to avoid obsolete technologies.
Investigate what can affect performance
If WiFi performance is still poor after checking that there are no stowaways in the network, the enemy may be at home. Sometimes, the equipment itself is responsible for slowing down the connection. The same applications that detect intruders can display the connected devices belonging to the network owner.
In homes, there are a lot of devices, and if they all work in unison, the speed will be significantly affected. It is not even necessary for all of them to be in use. Some of them may be running applications in the background, affecting consumption. For this reason, if any equipment is connected and its use is not essential, it is recommended to deactivate the WiFi.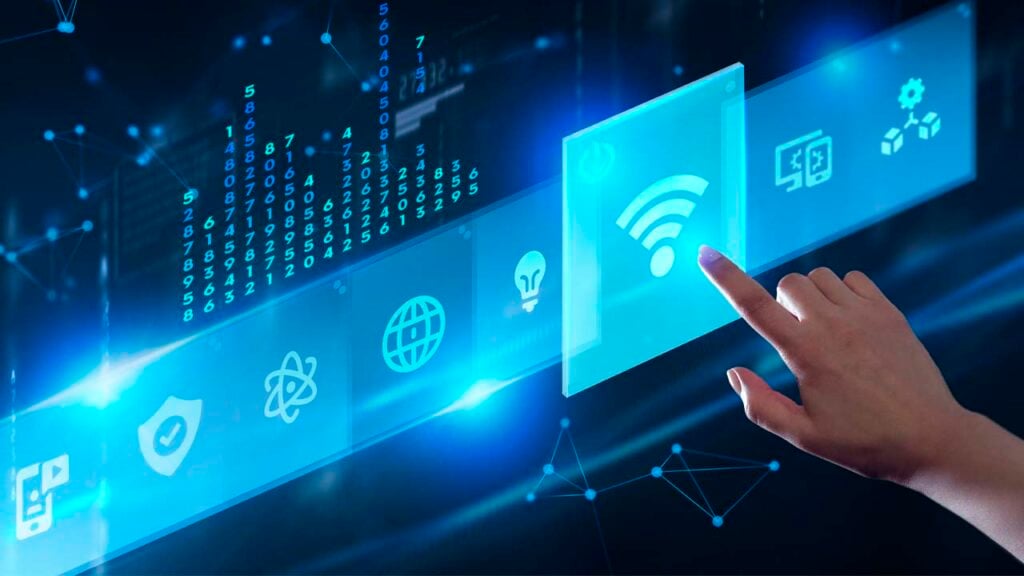 Change the bandwidth from 2.4 GHz to 5 GHz
WiFi works through channels. In the most popular bandwidth, 2.4 GHz, 13 channels coexist, overlapping each other. This overlap between channels is one of the main causes of interference. And therein lies another one of the tips to improve WiFi performance.
With a move to the 5 GHz bandwith, the user will experience a noticeable change. This band consists of 25 channels, which do not overlap each other. This results in higher speed and reduced interference.
But at the cost of a shorter range. The 2.4 GHz band offers a greater range, covering more distance. The possibility of being far away from the router is sacrificed for increased performance. It is up to the Internet user to decide which channel suits him best, based on his priorities when connecting to the network.
However, this solution is not universal. Not all devices are compatible with the 5 GHz band, especially routers that are several years old. As far as the 6 GHz bandwidth is concerned, the situation is similar. However, it is so rare that it will not impact most users for some time.
In this case, the most attractive option to improve WiFi performance is to change channels. Some applications identify all the channels of nearby routers to detect which one is less saturated and, consequently, offers a better connection. However, most routers already include this intelligent detection in their configuration and automatically connect to the ideal channel.
Restarting the router
Conventional wisdom is sometimes the best remedy. And the simplest solution has proven throughout history that it can be the most effective solution to the most intricate dilemmas.
If the WiFi is a source of problems, you should try resetting the router before resorting to expert professionals or calling the technical service.
This fundamental trick works and has saved many users from trouble. For example, if the router is getting too hot, a timely reboot can be the key to preventing the device from overheating.
Hire a more powerful service
If none of these tips to improve WiFi performance has worked, it is time to check how much power you have contracted with your operator. It may be the case that the contracted speed does not meet the user's needs. However, those with more demanding consumption habits can extend the contract to receive a power that meets their demands.
This situation is especially true for those consumers who are characterized by intensive use of the network. An average consumer should not have any problems in this respect unless the contracted power is minimal or there is some kind of incidence in the distribution.
Rely on the best software providers
This guide of ten tips to improve WiFi performance is a good basis for guiding how to act or how to discover the cause of the problem. In many cases, users often see this discipline as something distant and incomprehensible when this should not be the case. However, understanding and fixing WiFi is within anyone's reach with the right software providers.
This is Acrylic Wi-Fi's mission. Its tools empower users to perform situation diagnostics and identify network faults independently. Not surprisingly, good results have accompanied the company throughout its history and have made it a benchmark in the network analysis and security industry.
Acrylic Wi-Fi's six programs meet the needs of its customers satisfactorily. For those who want to visualize the status of their home network and receive advice on how to improve speed, Acrylic Wi-Fi Home is the right tool. Becoming a Wi-Fi expert has never been so easy.