Acrylic Wi-Fi Home – WiFi Scanner
View the access point or wifi router of your home and neighbors.
Get information on signal levels, channels, security mechanisms and WiFi passwords in Windows.
WiFi Scanner
Visualize WiFi information in real time. Score your network, identify channel interference problems, check AP coverage and improve your home's WiFi network performance.
802.11/a/b/g/n/ac/ax WiFi scanner.
Visualize WiFi channels in 2.4Ghz and 5Ghz.
Network distribution analysis broken down by WiFi channels.
Signal strength and WiFi network power graphs.
Free version of the software compatible with Windows 10
Show access points around you (APs, smartphones, laptops,..)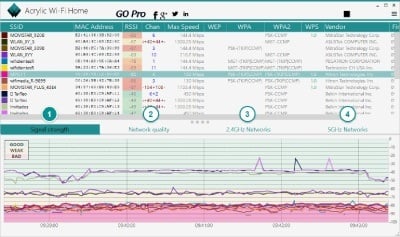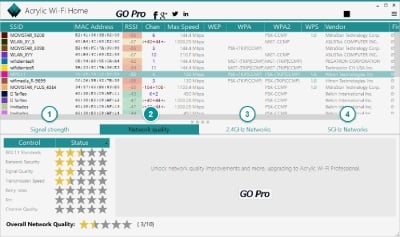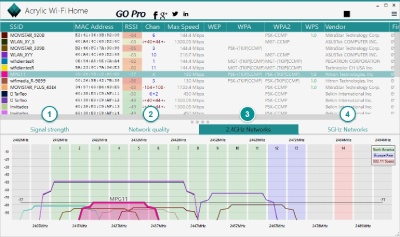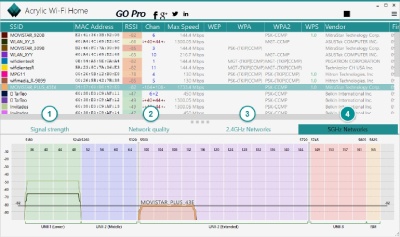 Signal strength
Network quality
Networks working in 2.4GHz
Networks working in 5 GHz
Start analyzing your WiFi communications
Get information about nearby APs (signal strength, channels, encryption, etc.)
Go to downloads
Access points
WiFi networks information (SSID/BSSID)
Signal strength
Access points' signal strength graphs.
Inventory
Name known WiFi devices.
802.11ax - Wi-Fi 6
View the latest aps and routers on the market
Channels
WiFi channel scanner and WiFi networks through channels in 2.4Ghz and 5Ghz.
Security
WEP, WPA or WPA2 security information.
With Acrylic WiFi Home you can view and scan nearby WiFi networks, and obtain network security information, even on 802.11ax networks. Acrylic WiFi is a free WiFi scanner for Windows.
If you want more information about Acrylic WiFi don't forget to check our blog, with WiFi-related articles such as "Analyzing WiFi Networks in Windows" with Acrylic or "10 Advanced Things to Do with Acrylic WiFi".
You can learn how to use Acrylic WiFi Home scanner thanks to its instructions manual.
Acrylic WiFi Home automatically notifies when new versions of the program are released with new features and bug fixes. If you like our scanner of WiFi channels and WiFi networks Acrylic WiFi Home, help us to promote it by sharing it on Facebook and other social networks. We need your help to spread the word.
Remember that you can buy Professional version and become a WiFi profesional. Be ready to quickly analyze WiFi networks and gather speed and performance information.
Solve the problems of your wifi network
Identify what is causing errors in your network.
Go to downloads
Version Comparison
Wifi Scanner
Screen mode and integration with Wireshark
Allowed for professional use
Airpcap card holders
Inventory
Information about connected devices
Generate reports and export data and images
More information on APs and clients
Technical support
Price




5 devices




Free




Unlimited




From €19.9
Are you ready to start?
Download Acrylic Wi-Fi Home or find out about the Professional version