Acrylic WiFi Professional is the best WiFi analyzer software to identify access points and wifi channels, and to analyze and resolve incidences on 802.11a/b/g/n/ac wireless networks in real time.
It is a perfect tool for advanced users and professional WiFi network analysts and administrators to control their office wireless network performance and who is connected to it, identify access point data transmission speeds, and optimize their company's WiFi network channels.
Use Professional Acrylic WiFi to view, monitor, analyze and audit wireless networks, as well as identifying and solving any problems that may arise.
Wifi analyzer
Access WiFi network detailed information, including hidden wireless networks, and make the most of unique features such as monitor mode to capture and analyze all wireless device traffic, device viewer, equipment inventory, and WiFi speed analysis.
802.11/a/b/g/n/ac sniffer and WiFi networks analyzer.
Monitor mode and Airpcap Classic, TX and NX cards supported.
Check packet retry rate
Detailed information about WiFi devices.
Unlimited device inventory.
View reachable wireless devices (APs, phones, laptops,..).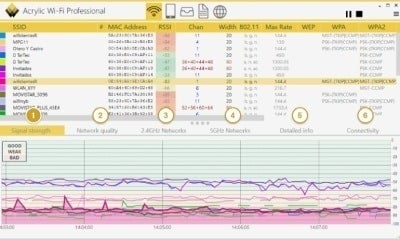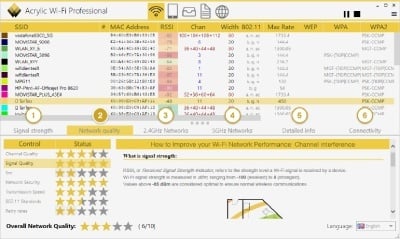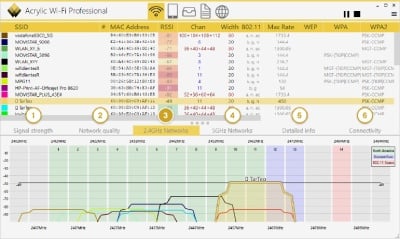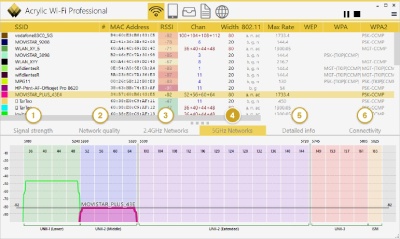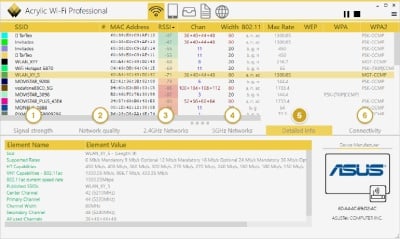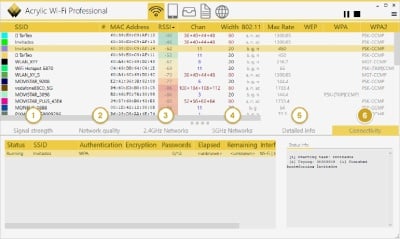 Signal strength.
Network quality.
2.4GHz networks.
5GHz networks.
Information on the device.
Connectivity
Start analyzing your communication channels
Get information about nearby APs (signal strength, channels, encryption, etc.)
Go to downloads
Improve the information obtained with the monitor mode
Monitor mode is a data capture mode that allows the use of a wireless network card Wi-Fi on listening mode or promiscuous mode. Capture all types of Wi-Fi Management packets (including Beacon packets), Data packets and ontrol packets. This way, it is possible to visualize not only the access points, but also the clients that are transmitting within Wi-Fi frequency bands.
When performing a data capture on Monitor Mode, Acrylic Wi-Fi Professional offers, besides all the information available on Normal Mode capture, information on all client devices connected to the different access points (#), Retries, Data Packets and Management Packets (Mgt).
Driver NDIS to receive information from clients who broadcast.
Increase the information collected from the network.
View the SNR using AirPCAP, TX and NX cards.
Obtain the device position by activating the GPS.
Monitor mode with NDIS driver.
It does not require any special hardware for its functioning. If the card iscompatible, the analysis will be enabled in monitor mode.
In order to activate the screen mode with the cards compatible with our driver, we must install the NDIS driver: in Acrylic WiFi, from the NDIS driver installation button next to the capture activation button in screen mode.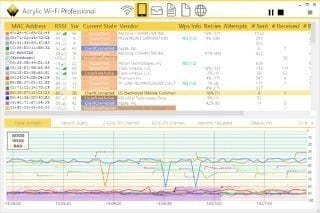 Monitor mode with AirPcap card.
These cards support native capture and screen mode and, since they're designed for this purpose, they offer a higher performance. Therefore, if we make a capture in screen mode with an AirPcap card, we can display, in addition to all available data with a capture in screen mode using a card compatible with the NDIS driver, information on SNR values (Signal-to-Noise Ratio).
SNR is a good parameter to measure communication quality, since it takes into account the received signal strength and the noise present in the wireless medium. Its value ranges from 0 (weakest) and 100 (strongest). 60 or over is considered a good value.
SNR is avaliable both on Acrylic WiFi Professional as well as Acrylic WiFi Heatmaps. ¿Do you want try it?
Monitor the information you collect from the network
Clients broadcasting, interferences, position of devices, etc.
Go to downloads
Troubleshooting
Detect performance problems and signal noise to improve the deployment of your WiFi network at your home, office or company.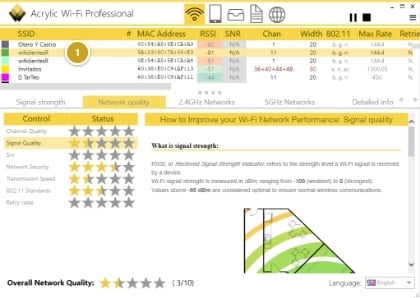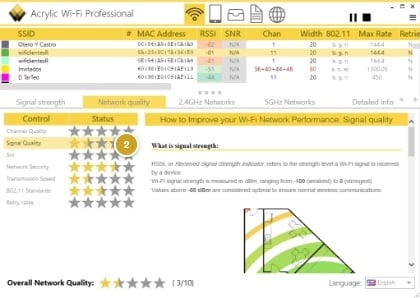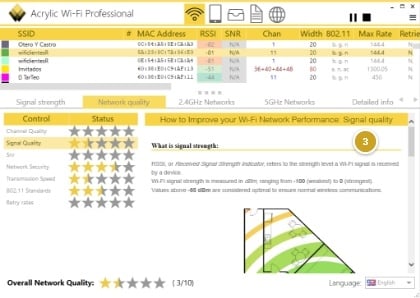 Select the network you wish to analyze
Select the appearance you wish to improve.
Obtain information to improve it.
Solves network problems
Improves network coverage through Acrylic Wi-Fi Professional recommendations
Go to downloads
Export analysis data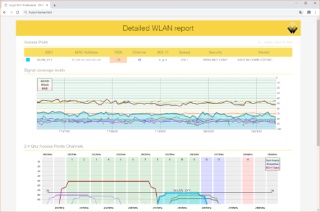 Export data in PCAP and KML (Google Earth).
Generate reports in interactive HTML CSV or TXT.
Other videos
How to detect mobile phones, smartphones, laptops, tablets and wireless devices
Wardriving. How to locate and georeference access points using GPS
Wardriving. How to see access points locations in Google Earth
How to brute force an access point password using dictionary attacks
How to capture wireless packets in monitor mode using Wireshark
How to save and analyze wifi packets from PCAP files
Are you ready to start?
Download Acrylic Wi-Fi Professional or contact us if you have any questions