Acrylic Bluetooth Low Energy Scanner

View the BLE beacons and identify devices
Get the signal strength (RSSI) and discover devices around you
Escaner Bluetooth LE
Display Bluetooth LE information in real time. Identify IOT devices and discover all those devices you didn't know had Bluetooth connectivity.
BLE beacon viewer
Get detailed information on Low Energy Bluetooth devices
Signal strength
Signal level charts of Bluetooth devices
Configurable dynamic charts
Configure graph display by filtering by time and bluetooth signal strength range (RSSI)
Minimalist design
Simple, easy and intuitive interface. Light and dark theme available.
Free version
Free version compatible with Windows 10
Multi language
Available in English and Spanish. More languages will be added in the future
Are you ready to start?
Discover the IOT Bluetooth LE devices around you
Go to downloads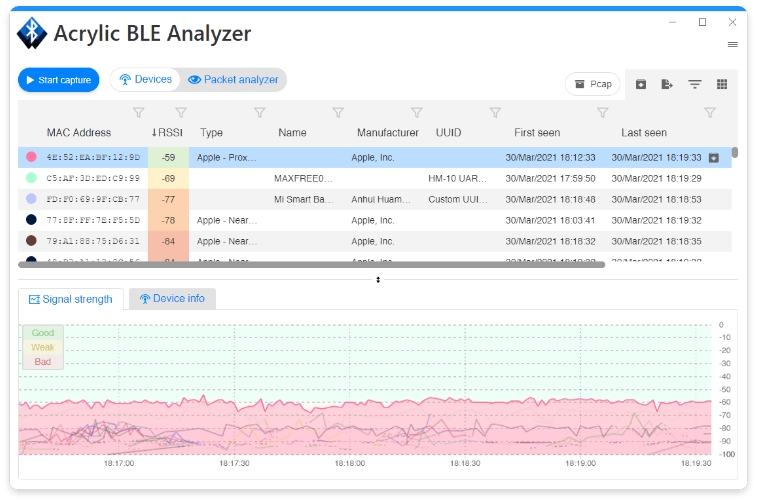 IOT device security
Identifies potential problems of security or privacy by discovering and identifying devices that you do not know have Bluetooth capabilities.
Identify Bluetooth devices
Thanks to the information provided as the type, name of the device or manufacturer you can identify the Bluetooth Low energy devices around you.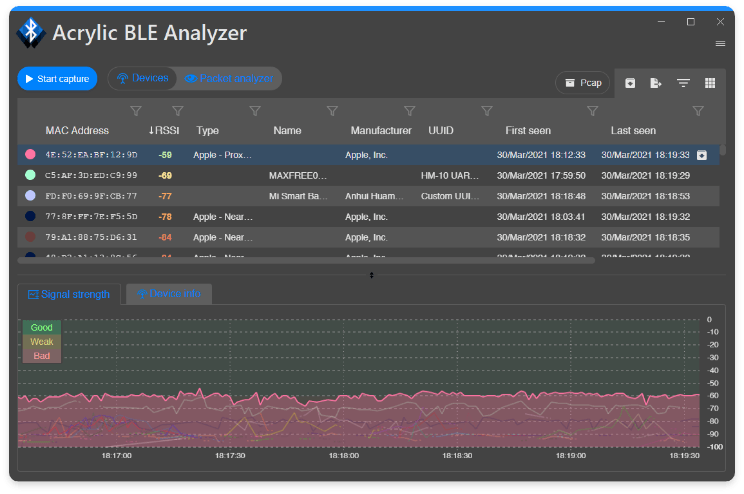 Are you ready to start?
Download Acrylic Bluetooth Low Energy for free and discover all the BLE devices around you
Would you help us by sharing our product on social networks?