Acrylic Wi-Fi Home

View real-time status of your Wi-Fi access point or router.

Detects other networks, signal levels, channels.

Check the settings, security and best channels by downloading this Wi-Fi scanner.
We would like to introduce you to our new product Acrylic Wi-Fi Sniffer
It integrates with the rest of the Acrylic Wi-Fi products and with WireShark increasing its capabilities.See more information
Try if free
Download the latest version of Acrylic Wi-Fi Home, the Wi-Fi network scanning software and get information about WiFi networks detected in your home.
WiFi Scanner


Inventory
5 devices
Unlimited
License type
free
from 19.95€
Suitable for commercial use

Monitor Mode

Client Detection

Network details and improvements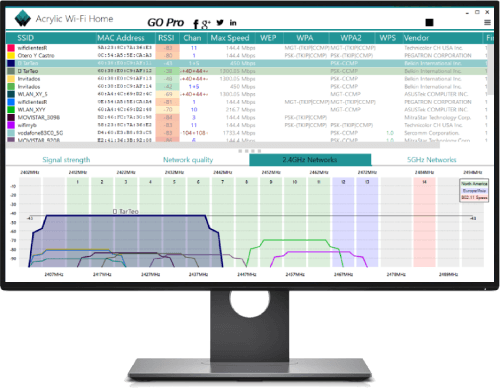 Other Acrylic Wi-Fi Products
Discover Learn about all that Acrylic can do for you; go to our Products page , take a look at all our other versions and download the trial version of Acrylic Wi-Fi Heatmaps, our coverage analysis software, or Acrylic Wi-Fi Professional, the professional version of our Wi-Fi network scanner.
How are Acrylic Wi-Fi tools used?
Become a Wi-Fi expert, learn with us
Go to training
Would you help us by sharing our product on social networks?