Acrylic Wi-Fi Professional
Analyze and improve the performance of your wifi network.
Detects connected clients, identifies the best channel, improves coverage, …
Increases performance with metrics and improvement recommendations.
Monitor Mode (NDIS, AirPcap)

Client detection*

Network improvements

Reports (interactive HTML, CSV, TXT, KML)

License type (1 year, perpetual and packs)

Operating system (Windows: Vista / 7 / 8 / 10)

Evaluation version (5 days)
*A device with monitor mode capability is required. View compatible wifi cards list.
If you are a student you can get a license through this form.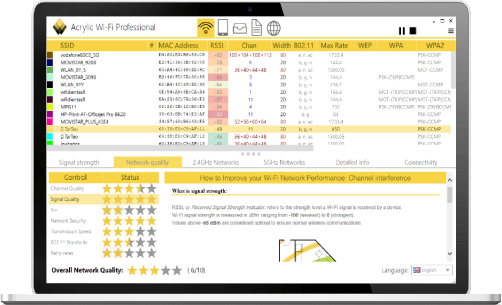 ¿Do you need a license?
Access our online store and get one.
Other Acrylic Wi-Fi Products
Learn about all that Acrylic can do for you; go to our Products page, take a look at all our other versions and download Acrylic Wi-Fi Heatmaps, our coverage analysis software.
How are Acrylic Wi-Fi tools used?
Become a Wi-Fi expert, learn with us
Go to training
Would you help us by sharing our product on social networks?