Acrylic Wi-Fi Sniffer
Captures packets in Wi-Fi networks with the latest 802.11ac standards.
Integrate network captures with applications such as Wireshark in real time.
Increases compatibility with the latest network cards in monitor mode.
Improved* monitor mode

Capture 802.11ac Wi-Fi standards

Capture in 20/40/80/160MHz channel widths

Use in conjunction with Wireshark 3

Type of license (1 Year, Perpetual and Packs)

Operating system (Windows: Vista / 7 / 8 / 10)

Try it now for free
*Requires a card that supports monitor mode. See list of compatible cards.
If you are a student you can get a license through this form.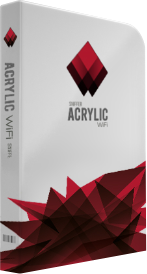 ¿Do you need a license?
Access our online store and get one.
Other Acrylic Wi-Fi Products
Learn about all that Acrylic can do for you; go to our Products page, take a look at all our other versions and download Acrylic Wi-Fi Heatmaps, our coverage analysis software.
Would you help us by sharing our product on social networks?