WiFi software Acrylic WiFi Free and professional v2.0
New Acrylic Wi-Fi software update. Our WiFi software for network analysis has gone through many changes since the first free version and finally reaches version v2.0 with more power than ever and long awaited features for network and channel analysis under Windows and with any wireless card.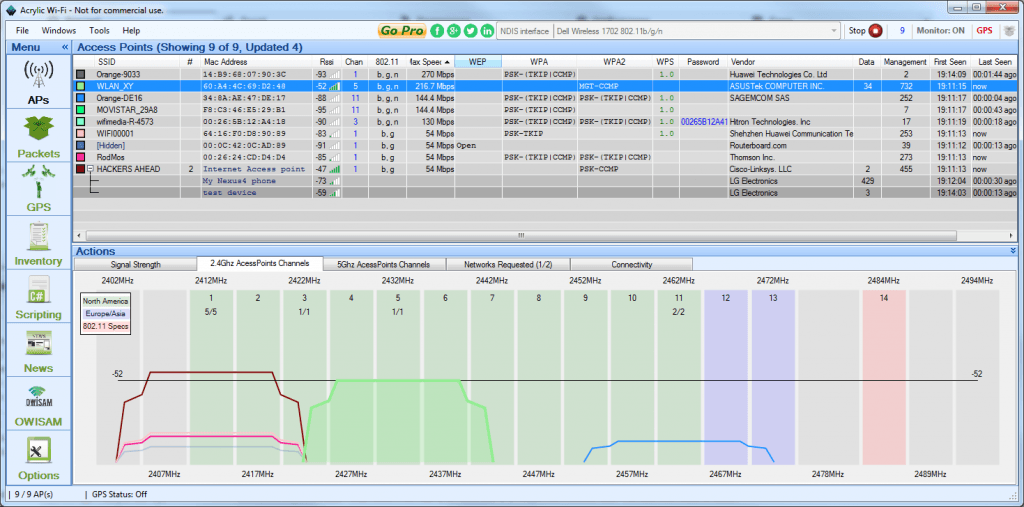 Acrylic Wi-Fi Home and Professional WiFi software news:
The main improvements of the new Acrylic Wi-Fi software release are as follows:
Acrylic Wi-Fi Home program incorporates information about the maximum speeds supported by the WiFi access point.
Fixed install and uninstall issues with NDIS capture driver under x64
Enhanced NDIS driver to avoid packet loss under heavy network capture with monitor mode.
Enhanced Wireshark integration for better performance and fixed radiotap header issues
Fixed compatibility with Windows Vista.
Added additional Visual studio dependencies.
Fixed issues when requesting trial licenses for Acrylic Wi-Fi professional.
New exception handler module to detect Acrylic bugs.
Execute Acrylic as user: Acrylic can be installed and executed as user, without administrator rights. Note that without admin privileges monitor mode won't be available
Added additional software tooltips.
Added social network buttons to share information about Acrylic Wi-Fi software with all your friends and followers :).
Improved graphical interface and usability.
Acrylic Wi-Fi Home starts with data capture automatically once the program is executed.
08/29/2014: Fixed several bugs that were crashing Acrylic Wi-Fi Home Acrylic_WiFi_Free_v2.0.5354.21084-Setup.exe and professional Acrylic_WiFi_Professional_v2.0.5354.19885-Setup.exe.
08/29//2014: Memory consumption has ben lowered 10 times when opening pcap files.
08/29//2014: Improved speed when aplying filters. WiFi filters are now at least 5 times faster.
Download latest WiFi software build at our products page: Acrylic Wi-Fi Home y Acrylic WiFi Professional .
If you like Acrylic Wi-Fi v2.0 please help us to make it known. Learn how to use Acrylic Wi-Fi software with our videotutorial.
To date over 100,000 people have downloaded the free version of the most advanced WiFi software. How about the new Acrylic Wi-Fi program version? Leave us a comment in the blog.